New Treasures: Solaris Rising 2: The New Solaris Book of Science Fiction
New Treasures: Solaris Rising 2: The New Solaris Book of Science Fiction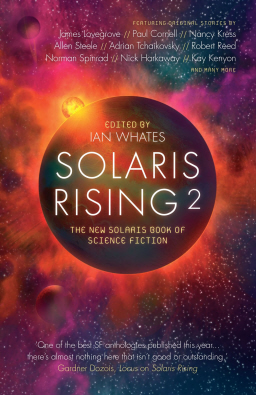 You're not reading enough great short fiction.
You know it's true. The question is, what are you going to do about it?
I have a suggestion (I know — when do I not?) You should read Solaris Rising 2: The New Solaris Book of Science Fiction.
Solaris has been a fast-rising brand in science fiction and fantasy for the past six years, since they were founded in 2007. Just in the past few weeks, we've covered several recent titles of note, including Juliet E. McKenna's Dangerous Waters and The Good The Bad and the Infernal by Guy Adams. See? These guys are serious.
They're serious about great short fiction, too. They started with three annual volumes of The Solaris Book Of New Science Fiction, edited by George Mann and published between 2007 and 2009. They relaunched the series last year as Solaris Rising, under new editor Ian Whates, and the book was a significant critical success.
Solaris Rising 2 looks like one of the best volumes yet. It includes stories by Mike Allen, Kay Kenyon, Nancy Kress, James Lovegrove, Robert Reed, Norman Spinrad, Liz Williams, Allan Steele, Kristine Kathryn Rusch, Paul Cornell, Eugie Foster, Nick Harkaway, Adrian Tchaikovsky, Vandana Singh, and many others.
Editor Ian Whates is no newbie to SF and fantasy. His novels City of Dreams & Nightmare and City of Hope & Despair were published by Angry Robot and The Noise Within and The Noise Revealed were released by Solaris. You should take advantage of expertise like that, and let him guide you to some quality fiction.
Solaris Rising 2: The New Solaris Book of Science Fiction was published by Solaris Books on March 26. It is 448 pages, priced at $8.99 in paperback. There is no digital edition.