New Treasures: Firebrand by Gillian Philip
New Treasures: Firebrand by Gillian Philip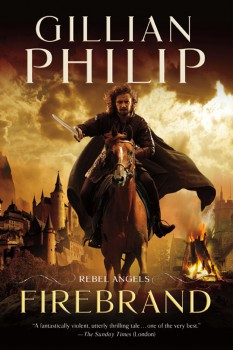 Here in the U.S., Gillian Philip is known primarily for her Carnegie Medal–nominated contemporary novel, Crossing the Line, and the YA dystopian title, Bad Faith. In the UK however, she's also known for her popular YA fantasy series, Rebel Angels, which the Sunday Times of London called "The best fantasy of 2010."
Filled with twisted court intrigue — and even more twisted monsters from the realm of faery — Firebrand seems like exactly the kind of fast-paced adventure Black Gate readers are interested in.
Now Tor has brought the first volume, Firebrand, into print on this side of the pond, in a handsome hardcover edition with a new cover by Steve Stone.
At the end of the sixteenth century, religious upheaval brings fear, superstition, and doubt to the lives of mortals. Yet unbeknownst to them, another world lies just beyond the Veil: the realm of the Sithe, a fierce and beautiful people for whom a full-mortal life is but the blink of an eye. The Veil protects and hides their world… but it is fraying at the edges, and not all think it should be repaired.

Discarded by his mother and ignored by his father, sixteen-year-old Seth MacGregor has grown up half wild in his father's fortress, with only his idolized older brother, Conal, for family. When Conal quarrels with the Sithe queen and is forced into exile in the full-mortal world, Seth volunteers to go with him.

But life beyond the Veil is even more dangerous than they expected, and Seth and Conal soon find themselves embroiled in a witch-hunt—in which they are the quarry. Trapped between the queen's machinations at home and the superstitious violence of the otherworld, Seth must act before both of them are fed to the witch-hunters' fires…
The second and third volumes, Bloodstone and Wolfsbane, are already in print in the UK. Interestingly, while all three books are marketed as YA there, Tor has mainstreamed them here in the US. It's an interesting switch, and I'm curious to see how the market reacts.
Firebrand was published by Tor Books on February 19. It is 365 pages, priced at $24.99 in hardcover and $11.99 for the digital edition.