Vintage Treasures: The Awful Green Things From Outer Space
Vintage Treasures: The Awful Green Things From Outer Space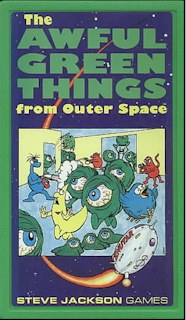 I keep promising myself I'm going to stop obsessing about games that have been out of print for decades.
Clearly, I'm a man of little character. Let's not dwell on that. Let's dwell instead on one of the great mini-games of all time, Tom Wham's The Awful Green Things From Outer Space.
First, a bit of history to support that claim. The Awful Green Things From Outer Space originally appeared as an insert in Dragon Magazine #28 (published in 1979). That's pretty great.
Great enough to be reprinted as a full-fledged standalone game by Dungeons and Dragons publisher TSR in 1980, anyway. In 1988, Steve Jackson Games, publishers of GURPS, acquired the rights and revived Awful Green Things as a pocket game, alongside other mini-games like Ogre, GEV, Car Wars, and Illuminati.
Even in august company like that, Awful Green Things stood out for its gonzo humor and original design. I was going to paraphrase the text on the back, but there's really no way to distill it. Here it is in its entirety:
The crew of the exploration ship Znutar just wanted to cruise around the Galaxy, discovering strange new worlds and playing pool. But then their ship was invaded by the Awful Green Things. And suddenly they were fighting for their lives!

In this wacky two-player game, one person takes the part of the Awful Green Things. Every turn the monsters multiply and grow… especially if they can eat somebody! The other player commands the crew, frantically trying weapon after weapon in hopes of defeating . . . The Awful Green Things from Outer Space!
The pocket edition consisted of a resealable box about the size of a paperback, 137 full-color counters (and a ziplock bag to keep 'em in), 24 pages of rules; and a 12″ x 21″ color map. The game was copiously illustrated by creator Tom Wham and Beverly Hale. My copy doesn't have a price tag, but I think it was around 8 bucks. You can buy an updated, boxed edition from Steve Jackson Games for $24.99, but the pocket edition is still the one to get if you can find it.