Vintage Treasures: An Earth Man on Venus by Ralph Milne Farley
Vintage Treasures: An Earth Man on Venus by Ralph Milne Farley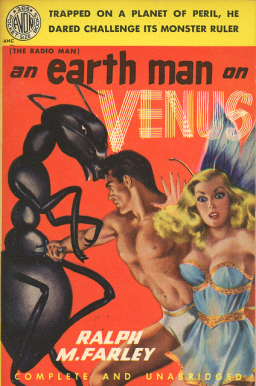 Ralph Milne Farley was a pen name for Roger Sherman Hoar, a state senator and assistant Attorney General for the state of Massachusetts. Why a state senator wouldn't proudly lay claim to a novel featuring a man and woman in underwear on the cover is beyond me, but some people just humbly shy away from fame, I guess.
Or maybe it's the antennae growing out of her head. It's hard to be sure.
Whatever the case, An Earthman on Venus was originally published (as The Radio Man) in that grand old lady of the pulps, Argosy, in 1924. It was immediately popular, and reprinted many times, starting in Famous Fantastic Mysteries (1939) and then in hardcover from Fantasy Publishing in 1948.
The version of interest to us is the 1950 Avon paperback, pictured at left. Primarily because it's a prime early example of underwear chic, but also because it was the first true mass market edition.
Legendary editor Donald A. Wollheim — who would later found DAW Books — was at the helm at Avon at the time, and he had an eye for pulp fiction that would play well in paperback. While he was at Avon, he made A. Merritt, H. P. Lovecraft, and C. S. Lewis's Silent Planet space trilogy available in mass market for the first time, bringing those authors — and many others — a wide audience.
The Radio Man isn't particularly well-remembered today, but it's an important part of the history of our genre nonetheless. Not just because of it has giant ants and antenna girls on the cover… well, mostly that. But it was also one of the first sword-and-planet adventures, and it was successful enough to spawn no less than seven sequels over the next three decades, starting with The Radio Beasts (1925) and including The Radio Planet (1926), The Radio Flyers (1929), The Radio Menace (1930), The Radio Gun-Runners (1930), The Radio War (1932) and The Radio Minds of Mars (1955).
Now I don't know about you, but I thought the sequel was invented with The Godfather, Part II. Evidence that fantasy writers were doing that kind of thing half a century before Francis Ford Coppola thought of it fills me with pride. And a powerful compulsion to buy blue lingerie for Alice, but let's not get in to that.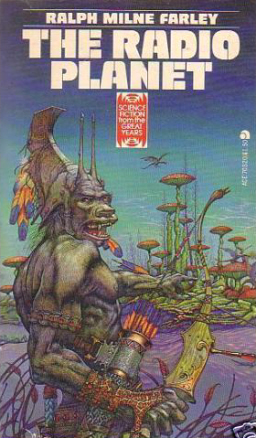 Let's focus instead on the novel, which features space travel, giant bees, giant-er ants, and man-eating flowers:
The planet Venus is many millions of miles away from Earth, but for Myles Cabot of Boston, it was too dangerously close — for a queer radio accident transmitted the young scientist instantaneously to that mystery world — unarmed, naked, and with no means to get home!

But Myles Cabot was an ingenious young man and when he got over his shock at finding himself in a world inhabited by eagle-sized bees, six-foot-high ants, and blood-thirsty flowers, he set out to carve himself a kingdom of his own.

There were people on that world, Kewpie-doll men and women, who seemed to be deaf and dumb — until he learned the odd secret of their bodies. These people were slaves of the all-powerful ants, and Myles Cabot realized that until he had overthrown their monster masters, there could be no safety for himself.

An Earthman on Venus is exciting adventure, a science-fiction thrill-a-minute novel by the well-known fantasy writer Ralph Milne Farley.
No, I have no idea what a Kewpie doll is either. But I know all about books in which men attempt to learn "the odd secret" of women's bodies. It's easier when you start out naked, and women wear only lingerie, I would imagine.
The 1950 Avon paperback was the last edition of An Earth Man on Venus/The Radio Men for over 50 years. I have to be honest: that's not a good sign. When a paperback isn't good enough for the 70s, you need to start asking some tough questions.
Fortunately for those of you who are curious enough to seek it out, it was reprinted by Pulpville Press in 2009 in inexpensive trade paperback — and yes, the new edition has the 1950 Avon cover. Theoretically, if you're willing to spring for the 1948 hardcover, I guess you could obtain a copy of An Earth Man on Venus without blue lingerie on the cover. But that would sorta defeat the purpose, in my opinion.
An Earth Man on Venus was published in 1950 by Avon Books. It is 128 pages. My copy has no cover price, but it was probably 35 cents.