The Land the Ravens Found and Naomi Mitchison
The Land the Ravens Found and Naomi Mitchison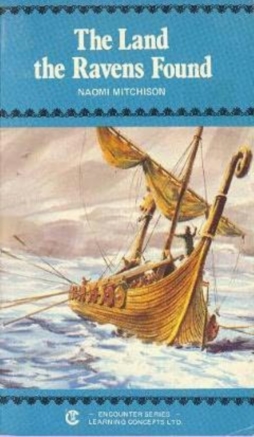 One of the joys you get to have as a reader is the discovery of a new writer, or a new old writer, with a back catalogue of work out there waiting for you. A little while ago, my girlfriend Grace and I were at a book fair when Grace came across a children's novel called The Land the Ravens Found. First published in 1955, the copy she'd found was a fourth edition, from 1966, suggesting there'd been some demand for the book over the years. It was a story of Viking times and the founding of a settlement in Iceland, written by a woman named Naomi Mitchison. Neither of us had heard of her, but after reading the book, Grace was impressed enough to recommend it to me; after reading it myself, and learning a bit about Mitchison online, I thought it'd be worth writing a little here on both book and author.
The short novel tells the story of Aud the Deep-Minded, a historical figure who was the head of a Viking household in Caithness, and who led her household to Iceland late in the ninth century. The book begins in Caithness, with a scene from the perspective of Aud's grandson, Anlaf, but the point-of-view shifts easily throughout the book, giving a kind of communal portrait of Aud and her family and her family's thralls, describing their relationships and daily lives. The drama seems almost secondary to the precise, detailed depictions of ninth-century life, but oddly the book becomes all the more involving because of it, as life moves on, through marriages and deaths and quarrels which oddly remain in the background, yet still shape everything that goes on.
Mitchison was born Naomi Haldane in 1897. She died in 1999, at the age of 101, after what seems to have been one hell of a life. It's not just that she wrote over ninety books in her life, from science fiction to autobiography. She was an anti-fascist who helped get left-wing refugees out of Nazi Austria, an activist for women's rights and open access to birth control, a polyamorist, and, after a period living in Africa in the 1960s, an honorary mother ('Mmarona') and advisor to a Botswanan leader.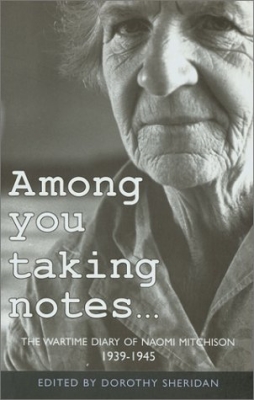 Coming from a well-off background, she studied science, served as a nurse during World War One, and published her first novel — The Conquered, a historical fiction about Julius Caesar — in 1923. She began campaigning for women's access to birth control in the 20s, and in 1930 wrote a pamphlet about the importance of sex education; in 1935 she wrote a book, We Have Been Warned, involving these themes, but the novel was heavily censored before publication due to its inclusion of subject matter such as rape and abortion. By this time, she and her husband had opened their marriage so that they could both maintain other emotional relationships outside of their primary attachment to each other.
A socialist, Mitchison was still skeptical of the policies of the Soviet Union following a 1932 visit. She went to Vienna in 1934 as a newspaper correspondent, and recalled in an interview how "during the counterrevolution, we were getting messages through in Welsh, because the Austrian police didn't understand it. … Dollfuss, the Chancellor of Austria, shot up the socialist quarter of Vienna where they were resisting his abolition of political opposition. Some of us went there to help, and we did a good lot of police dodging. We also got the news back." The next year, she stood unsuccessfully for election in England herself, and continued to speak out on political matters; in 1949, she was one of the writers George Orwell named to the British government as "crypto-communists, fellow-travellers or inclined that way."
Mitchison wrote both for children and for adults — novels, plays, short stories, essays, and memoirs. And science fiction, such as her 1962 Memoirs of a Spacewoman or her 1975 Solution Three. Particularly worth noting here would seem to be her fantasies, of which she wrote several, including the 1955 Arthurian fantasy To The Chapel Perilous — which, as John O'Neill observed just a few days ago, was republished not so long ago by Green Knight Press. She seems to have not infrequently mixed fantasy into history; that first novel about Caesar also contained an appearance by Odin.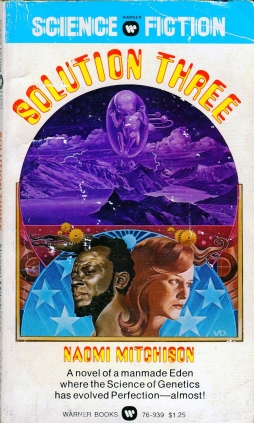 Mitchison's friends and correspondents included Auden, E.M. Forster, Aldous Huxley, and Robert Graves. Perhaps most relevant here is her connection to J.R.R. Tolkien: she was one of the proofreaders of The Lord of the Rings, and provided a blurb for the book's original publication. She's the original recipient of some of the correspondence in Humphrey Carpenter's collection of Tolkien's letters.
(You can read more about Mitchison in this extended review at Strange Horizons, from which I've taken much of the foregoing material; there's a remembrance of her here, another here, and an obituary here. Wikpedia has a decent overview of her life, and the SF Enclyclopedia has a detailed list of her science fictional and fantastic writing. Small Beer Press has reprinted some of her work; here's their page about her. For more on the Tolkien connection, here's her page at the Tolkien Gateway.)
As it happens, the book of Mitchison's that I read was published in 1955, the year after Fellowship of the Ring first appeared. It's an odd piece, in that I found myself spending the first few dozen pages trying to work out how to read it. The point-of-view moved back and forth from an omniscient narrator to various characters rapidly and unexpectedly. When told from the omniscient narrator's perspective, it focused on chores and the details of everyday life — what things were made of, what the world looked like and tasted like and smelled like in the ninth century. Narrative was left to take care of itself, a kind of movement in the background.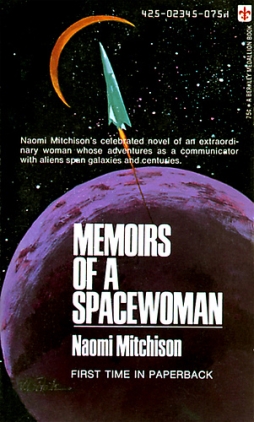 The Strange Horizons review I mentioned above looked at Memoirs of a Spacewoman and stated that "Rather than follow a strictly linear or unified narrative, Memoirs homes in on certain incidents — missions gone wrong or right, episodes in Mary's personal relationships — with an implicit rather than explicit sense of progression, all the while exploring the obstacles to communication across cultural divides, different permutations of social networks and personal interaction, collective parenthood, and the complex joys and pains of a life lived in continual fast-forward relative to the rest of human society." Remove the reference to "missions gone wrong or right" and the sf-specific concerns of the final clause, and that's an excellent description of the technique of The Land the Ravens Found.
In terms of character, it's notable how much attention the book pays to the way the Norse mix with captive Celts; children are raised by the slaves and free folk who share a home, while adults are shaped by prejudices or ideologies from specific cultures. Narratively, the book proceeds through unpredictably-paced episodes, mostly to do with personal interactions, some of which have traditional dramatic movement and some of which do not. There is a subtle progression over the course of the book. By the time you reach the end you can look back across the arc of the tale and see how it is Aud's story, and yet also a collective story, the story of her household and how she brings them out of danger and prepares them for a new future in a new land.
It's an odd structure, but it works. And I think it works particularly well in this case because Mitchison's simple, dry style recalls, at its best, the approach of the Icelandic Sagas. The story seems slow, but what happens here is that Mitchison builds a world in which we are to live. We hear the sounds, smell the scents, touch and taste as her characters do, and live with them through the events of their lives. The everydayness of events builds the people of the book, and involves us in what happens to them — which is at the same time shaped by historical forces far beyond them, and yet also entirely within their control. Choices are made that do not necessarily return as you would expect, just as in life. But as in life, you can look back over the matter of years and see a surprising unity to events.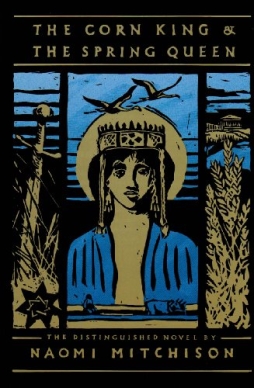 One can perhaps quibble about certain points of history and of the way life is depicted. It's probably fair to say that the book underplays the violence of the time. But then the point of it is that it's about all the things that happen between violent actions — it's an inversion of the typical presentation of the Viking Age in English fiction, dealing not with raids and pillaging, but with the women and children who helped define the homestead. Even in those days, murder was not an everyday occurrence. Then as now, most of life was a matter of routine and the slow development of relationships between people over time.
The book ought not to be any good, according to most theories of how to involve readers in a story. But one may be permitted to doubt the ultimate wisdom of all such theories. The book works, and it works because it does exactly what Mitchison wants. It's a fascinating book. And impressive enough that in future I'll be keeping an eye out for more of her work.
Matthew David Surridge is the author of "The Word of Azrael," from Black Gate 14. His ongoing web serial is The Fell Gard Codices. You can find him on Facebook, or follow his Twitter account, Fell_Gard.