Vintage Treasures: Nifft the Lean by Michael Shea
Vintage Treasures: Nifft the Lean by Michael Shea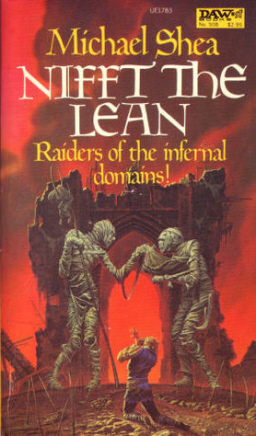 Michael Shea is one of the most fascinating characters in the genre. Consider this biographical tidbit from his Wikipedia entry:
At a hotel in Juneau, Alaska, Shea chanced on a battered book from the lobby shelves, The Eyes of the Overworld by Jack Vance (1966). Four years later, after a brief first marriage and one year hitch-hiking through France and Spain, he wrote a novel in homage to Vance, who graciously declined to share the advance… It was Shea's first publication, A Quest for Simbilis (1974), and an authorized sequel to Vance's two Dying Earth books then extant.
Nowadays we'd call that "fan-fiction," and read it online. In 1974, A Quest for Simbilis was published in paperback by DAW books, and it launched Michael's career — a career that has produced some of the most acclaimed fantasy of the past four decades.
Eight years after he burst on the scene with A Quest for Simbilis, Michael published one of the most important works of modern sword and sorcery: Nifft the Lean, a collection of four linked novellas published in paperback by DAW in 1982. It won the World Fantasy Award for year's best novel, and accolades from every corner of the genre.
Nifft has reappeared several times since, first in The Mines of Behemoth (Baen, 1997) — collected with Nifft the Lean as The Incompleat Nifft (Baen, 2000) — and most recently in the novel The A'rak (Baen, 2000).
However, I've never read the original Nifft the Lean, and when I stumbled on a copy in a collection of DAW paperbacks I purchased last month, I decided it was time to rectify that. The marvelous Michael Whelan artwork is reminiscent of many other DAW S&S titles of the time, especially Michael Moorcock's Elric books, and there's a familiarity to it that I find very welcoming. I'm looking forward to reading the stories that inspired it.
Nifft the Lean was published in December 1982 by DAW Books. It is 304 pages in paperback, originally priced at $2.95. It is currently out of print.