New Treasures: Enter The Wolf: Vampire Earth Volume 1
New Treasures: Enter The Wolf: Vampire Earth Volume 1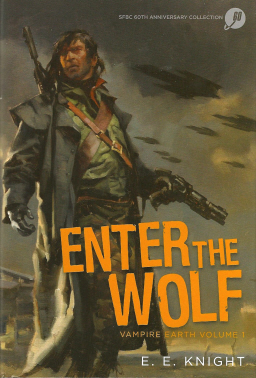 E.E. Knight's Vampire Earth is one of the best adventure series on the market — action-packed, highly entertaining, and filled with great twists and surprises. Set on a near-future Earth conquered by a vampiric alien race, it's the kind of fast paced and chilling narrative that would have resulted (as Paul Witcover puts it), "If The Red Badge of Courage had been written by H.P. Lovecraft."
The Science Fiction Book Club has just released a high-quality hardcover omnibus of the first three books, Enter The Wolf. My copy arrived last month, complete with a sewn-in bookmark and great new wrap-around cover art by Gregory Manchess (click on the image at right for a bigger version).
Earth, 2065. Everything you know has changed. 43 years ago, the bloodthirsty Reapers came to Earth to feed their insatiable hunger. Now a ragtag rebel alliance is all that remains in the fight against our vampiric alien overlords. This is the world of the Vampire Earth saga, author E. E. Knight's riveting blend of horror, dystopia and all-out military SF action. Devour this addictive series' first three thrilling novels in Enter the Wolf, an SFBC 60th Anniversary omnibus!

Way of the Wolf: For four decades the Reapers have ruled our world. But Lieutenant David Valentine believes the human spirit remains unconquerable. And he's on a mission to take back the Earth. Choice of the Cat: They call them the Cats — an elite stealth force of the finest warriors humanity has to offer. David Valentine is out to join their ranks. But first he must uncover the secret of the Twisted Cross, a deadly and mysterious new force under Reaper command. Tale of the Thunderbolt: As the human Resistance continues their struggle to overthrow the Reapers' reign, Valentine embarks on a harrowing quest to find a long-lost weapon. Is it enough to turn the tide of darkness and end the Kurian Order's dominion of Earth forever?
If you haven't already, read E.E. Knight's short story of ancient fellowships and dread sorcery, "The Terror in the Vale," published in January right here at Black Gate.
Enter The Wolf: Vampire Earth Volume 1 was written by E.E. Knight, and published exclusively by the Science Fiction Book Club in February 2013. It is 803 pages in hardcover priced at $16.99 for members; it's available as part of the introductory offer to the club for just $1. Check it out here — I've been a member of the club for years, and recommend it highly.