SF Signal on Liar's Blade: "Fafhrd-and-Grey-Mouser-style Sword and Sorcery"
SF Signal on Liar's Blade: "Fafhrd-and-Grey-Mouser-style Sword and Sorcery"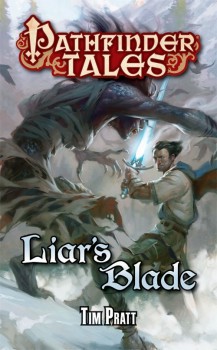 SF Signal's Karen Burnham gives a big thumbs-up to Tim Pratt's latest Pathfinder novel, Liar's Blade, with the kind of review that sends me scrambling to find a copy:
The Pathfinder line of RPG novels is doing a lot of things right. They've been publishing intelligent adventure novels that showcase their gaming system and their campaign setting in lush detail. They've hired a variety of solid, professional authors, and they've spread their tales among a wide variety of heroes instead of following one party for multiple books. The one thing that they had been missing – until now – was the particular brand of [charm] that I have recently come to love in Fritz Leiber's Fafhrd and Grey Mouser series. Tim Pratt has done an excellent job of capturing that spirit in this Pathfinder outing.
Fafhrd-and-Grey-Mouser-style Sword and Sorcery in a Pathfinder setting? Sign me up!
Tim's first Pathfinder Tales novel was City of the Fallen Sky (June, 2012), which seems to be unrelated to this one. But maybe not; I'll have to read them both to be sure. The "variety of solid, professional authors" Karen mentions include Howard Andrew Jones, Richard Lee Byers, Dave Gross, Robin D. Laws, Elaine Cunningham, Ed Greenwood, James L. Sutter, and many others.
We've been telling you about Paizo's premiere fiction line for a while; don't pretend we haven't. We presented an exclusive excerpt from Dave Gross's new Pathfinder Tales novel, Queen of Thorns, in October; we also covered the release of Howard Andrew Jones's Plague of Shadows in October 2011. Bill Ward's four-part Pathfinder Tales story "The Box" was published online back in October 2011, and Howard had his own Pathfinder Tales piece, "The Walkers from the Crypt," a 4-part mini-epic, published free online in March 2011.
Liar's Blade was published March 12, 2013 by Paizo Publishing. It is 400 pages in paperback, priced at $9.99. You can download a free sample chapter or purchase the digital edition for $6.99 directly from Paizo.com, or read Karen's complete review at SF Signal.