Rogue Blades Entertainment Reveals the Secrets of Writing Fantasy Heroes
Rogue Blades Entertainment Reveals the Secrets of Writing Fantasy Heroes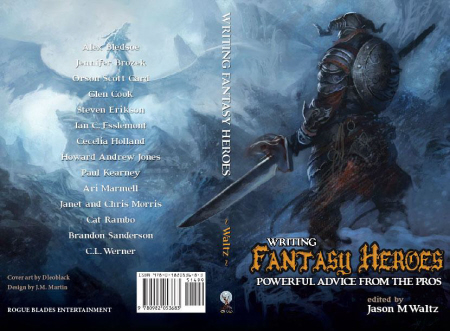 The distinguished Mr. Jason M. Waltz, occasional Black Gate contributor and stalwart road-trip companion, is rumored to be fairly highly placed in the global publishing mega-consortium that is Rogue Blades Entertainment. So when he leaked word to us of an impending major release this week, we dropped everything to check it out.
RBE is no stranger to heroic fantasy. For the past few years they've been at the very forefront of the genre, with such groundbreaking anthologies as Return of the Sword, Rage of the Behemoth, Demons, and others. Writing Fantasy Heroes looks like their most ambitious release yet — a must-have book for readers and aspiring writers alike.
Fantasy heroes endure. They are embedded in our cultural fabric, dwarfing other literary figures and the mere men and women of history. Achilles and Odysseus, Gilgamesh and Beowulf. King Arthur and Robin Hood, Macbeth and Sherlock Holmes, Conan and Luke Skywalker. They dominate our legends, and tower over popular culture. The stories we tell each other begin and end with fantasy heroes, and the 21st Century is as thoroughly captivated with them as ever. From Batman to Gandalf, Harry Potter to Tyrion Lannister, the heroes of fantasy speak to — and for — whole generations. But what makes a fantasy hero? How do the best writers create them, and bring them to life on the page? In Writing Fantasy Heroes some of the most successful fantasy writers of our time-including Steven Erikson, Brandon Sanderson, Janet Morris, Cecelia Holland, Orson Scott Card, and Glen Cook-pull back the curtain to reveal the secrets of creating heroes that live and breathe, and steal readers' hearts. Whether you're an aspiring writer or simply a reader who loves great fantasy and strong characters, this book is for you.
Writing Fantasy Heroes is edited by Jason M. Waltz, with a forward by Steven Erikson. It was published by Rogue Blades Entertainment and is available from Amazon.com and other fine distributors for $14.99 in trade paperback. The terrific wrap-around cover is by Dleoblack (click on the image for a bigger version). As soon as we receive a copy in house, we'll report back with full details.