Amazing Stories, August 1964: A Retro-Review
Amazing Stories, August 1964: A Retro-Review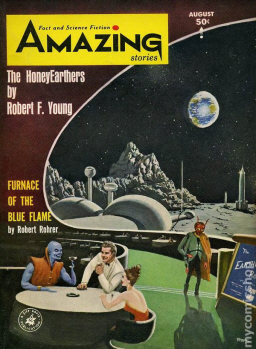 Here's another of Cele Goldsmith's issues of Amazing, though by this time she had married, and was Cele Lalli. Of particular interest this time around is an obscure Ursula K. LeGuin story.  I notice as well a different font for the title – I liked it. Not sure when it changed.
This time the cover is by Richard McKenna. At first I thought it might be the author of the Nebula winning story "The Secret Place" as well as "Casey Agonistes" and the bestselling non-SF novel The Sand Pebbles (for which last I have seen it suggested he did the original cover). This is credited to him in the ISFDB, actually, and it's creditable if not brilliant, a scene at a restaurant on the Moon, with aliens – vaguely reminiscent, perhaps, of David Hardy.
However, further investigation (with the help of ace bibliographer Phil Stephenson-Payne) reveals several further covers from mid-60s SF magazines, mostly Galaxy and If, credited to R. McKenna. These covers bear some resemblance in style to this cover, and those that are signed are signed RMcK, much as with this painting. The latest of these other covers dates to 1968, while Richard McKenna of The Sand Pebbles died in 1964. So it seems most likely that another Richard McKenna worked as an illustrator for a while in the mid-60s.
The editorial, unsigned this time (other examples I've seen were signed by Norman Lobsenz, the Editorial Director) is about continental drift, which was just beginning to gain traction as a believable theory. There is no science article, but Sam Moskowitz contributes an SF Profile on Mort Weisinger, focusing on his early career as an SF fan, fanzine producer, and occasional writer, before giving him a bit more credit for Superman than seems fair to Siegel and Shuster.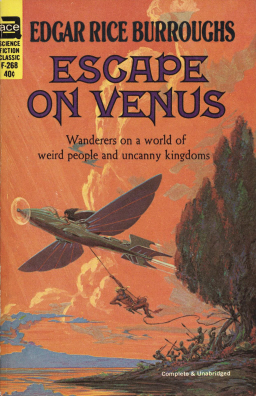 The book review column, the Spectroscope, is by Robert Silverberg. It opens with a bracing review of Brian W. Aldiss's Starswarm, complaining about the changes Aldiss made to lightly "novelize" what is really a story collection – called a "chronicle-novel" on the cover – can this be an alternative to "fixup" or "mosaic novel"? The review is mixed overall: "wildly uneven", some material "top drawer", others "generally annoying to read." An intelligent review that actually describes the problems with the stories.
There is also a rave review of the Ninth series of The Best from F&SF (which as it happens includes McKenna's "Casey Agonistes"), and a cautiously mildly positive review of Edgar Rice Burroughs's Escape on Venus (which mentions quite negatively other Burroughs novels). And a discrete mention without review of two Silverberg books: Regan's Planet and Time of the Great Freeze (this last a book I liked a good deal when I read it as a teenager).
The letter column, "…Or So You Say," includes letters from Duane Richardson (praising Silverberg's reviews, and disaparaging his predecessor, S. E. Cotts), asking for more Zelazny, (Leiber, and Gottlieb), George Inzer (defending "neo-fans"), and Ben Bova (discussing the scientific implausibility (or not!) of Thorpe's "Now is Forever", which of course is actually by Thomas Disch (writing as "Dobbin Thorpe."))
Most interesting to me was a letter from John Boston of Mayfield, KY. John liked the Emsh cover for the May issue. Disliked Lester Del Rey's "Boiling Point" ("one of those clever little things that leave me cold.") Disliked Cordwainer Smith's "The Crime and the Glory of Commander Suzdal" ("I am not at all fond of Cordwainer Smith, and this is down to his usual standards" – do you still feel that way about Smith, John?). Disliked Phyllis Gottlieb's serial "Sunburst." And closes with an excruciating pun on Cele Goldsmith's name.
Why such interest? Those who frequented the wonderful Usenet newsgroup rec.arts.sf.written in its glory days (late 90s, early Oughts) will recognize one of its sterling contributors. John continues to write in certain fora about the same thing I do – old SF magazines (and other things too, mind you), and he has recently published three volumes (along with Damien Broderick) about the old UK SF magazines Science Fantasy, New Worlds, and Science Fiction Adventures.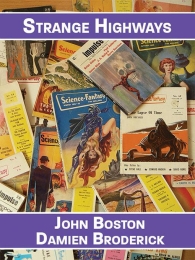 These books do just the sort of thing I try to do in these columns, with considerable acuity and also wit – they are called Strange Highways, Building New Worlds, and New Worlds: Before the New Wave. And you will see more about them in the near future here.
So, the stories. There are two novelettes. The cover story is "The HoneyEarthers" (11,000 words) by Robert F. Young. The title is a play on "Honeymooners" – "HoneyEarthers" are just married people who go to the Moon for their "HoneyEarth." Took me a long time to decode that. The story opens with a curious story of a teenaged boy working in Saturn's rings and nearly dying because of a mistake he makes. Then we switch to an older man, who has just been forced out of his company by his son. The son has also served his beautiful French wife (with whom the father is in love) divorce papers, and to top things off, he's wanted for tax evasion and has fled into space.
The older man is taking his daughter-in-law to the Moon – I suppose to make her feel better, but also to tell the story of his life. And, in a sense, to apologize for falling in love with her. But there's a twist – a bit implausible, but really, to me, pretty neat. Plus I enjoyed the prose – slightly overwrought, but mostly effectively so, and at times quite beautiful, quoting Shakespeare, Arnold, and Coleridge in case you miss the poetic intent. The characters are a bit on the clichéd side, sure – but it pretty much works.
The other novelette is "Zelerinda," by Gordon Walters (12,500 words). "Gordon Walters" is a pseudonym for George Locke, a UK writer who published about a half-dozen stories between 1957 in 1966, in Authentic, Amazing, Fantastic, and New Worlds (finishing in Moorcock's New Worlds). The ISFDB credits as well a 1987 novel (Pattern of Terror), which turns out to have been "published" as 50 photocopies of his manuscript, and some non-fiction, including bibilographic work and a couple of books about Sidney Sime. "Zelerinda" is kind of a mess, about two men sent to a strange planet where radioactive clouds (composed of element 147) mimic life. The one man has a new sense called "delvin," which helps him sense danger and the true nature of things. At times almost interesting, mostly just silly.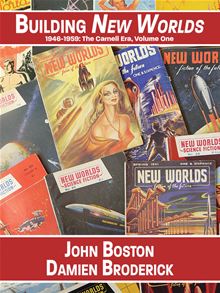 The first short story is Ursula Le Guin's "Selection" (3,500 words), surely her least well-known piece of genre SF. I say that because I thought I had read her complete works (save perhaps some mainstream stuff), and I hadn't read this. It has only ever been reprinted in one of Sol Cohen's trashy reprint 'zines, the Spring 1970 Science Fiction Greats.
And it's easy enough to see why – it's quite uncharacteristic of her work, reading like something from Galaxy in the '50s, with a woman on a harsh colony planet having to marry the man the computers choose for her even though she despises him – but of course they eventually fall in love. The end has a trivial and predictable twist. So – not really a very good story, but still an enjoyable read because Le Guin writes so well. (Amusingly, one character is named Gosseyn-Ho, a fairly blatant Van Vogt nod.)
Phyllis Gotlieb contributes a 2,500 word story, "Valedictory." This is about a woman training to be a time traveler – and risking her job by insisting on taking her "final exam" trip to her childhood, trying to fix herself, instead learning a lesson about her childhood. Again, a minor story, a bit forced, but nice enough.
And the other story is "Furnace of the Blue Flame" (6,200 words) by Robert Rohrer. Rohrer had a very odd career. He published 16 stories between 1962 and 1965, mostly in Goldsmith's magazines (two appeared in F&SF). One story was picked up for one of Judith Merril's Bests, another for a Best from F&SF volume. The really odd thing is that he was 16(!) when his first story was published, and only 19 when the last appeared. His father was a Physics Professor at Emory University, and the son became a journalist.
"Furnace of the Blue Flame" is actually pretty bad. It's post-Apocalyptic, about a man traveling the US (complete with silly corrupted place names like Nuyuk, Bigchi, and Lanna), trying to reintroduce learning and knowledge to people. He encounters a village dominated by a vile man who punishes those who resist him with the title furnace – which we immediately realize is a nuclear reactor. The resolution is only slightly more believable than the refrigerator scene from Indiana Jones and the Kingdom of the Crystal Skull.