The Best One-Sentence Reviews of Manly Wade Wellman: The Winners of The Complete John Thunstone Contest
The Best One-Sentence Reviews of Manly Wade Wellman: The Winners of The Complete John Thunstone Contest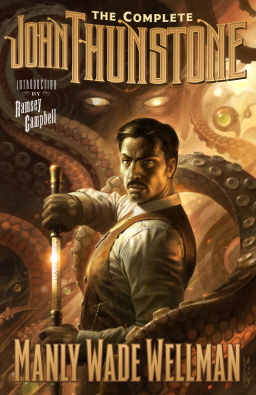 Three weeks ago, we announced a contest to win one of two copies of Manly Wade Wellman's The Complete John Thunstone, compliments of Haffner Press.
To enter, contestants had to submit a one-sentence review of their favorite Manly Wade Wellman novel or short story. That's it. Are we good to you, or what?
It quickly became the most popular contest in our history, with a steady stream of diverse entries covering the entire expanse of Wellman's nearly 60-year career, from his first story in Thrilling Tales in 1927, to his final John the Balladeer story, "Where Did She Wander," in 1986.
We'd like to present some of the best submissions here, and at the end we'll announce the two winners, both of whom will receive a copy of The Complete John Thunstone, the latest archival quality hardcover release from Haffner Press.
Perhaps not surprisingly, we received the most votes for Wellman's popular Silver John stories, also known as the John the Balladeer tales. We begin with Jeremy Harper, who highlights the very first Silver John story:
"O Ugly Bird!" A legend is born when a saintly hillbilly musician confronts a backwoods sorcerer and his goddamn Ugly Bird and smites them dead with his silver string guitar.
Nick Ozment expands on Jeremy's comments this way:
Having enjoyed one of Manly Wade Wellman's Silver John novels, I find it interesting how Wellman's traveling troubadour provides an American folk counterpart to Yeats's Irish bard Owen Red Hanrahan, rooting the mysticism and magic in American soil.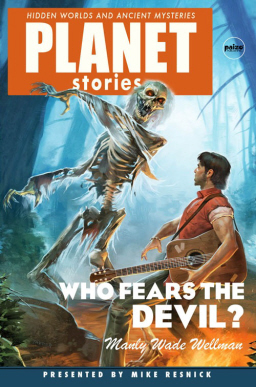 [Click on any of the images in this article for larger versions.]
Well said, Nick. Next is John Middleton:
"Nobody Ever Goes There" is a beautifully written Silver John story, in which we get to see him in action with outside eyes – keeping the peace in a little mountain village divided by a river, on one side of which there are things which don't hanker to be pestered.
Rick Ollerman draws from a more modern source for the same series:
I love the unique, lyrical southern voice of the fantasy stories in Paizo's Planet Stories collection of Silver John tales, Who Fears the Devil?
Who Fears the Devil, which collects all the Silver John tales — including two stories before he got his silver-stringed guitar — is still in print. It's 208 pages in a beautiful softcover edition, available for just $15.99 directly from the publisher, Paizo Publishing.
If that's not enough to convince you, here's Jeffery Helms's entry, on his favorite Manly Wade Wellman story, "The Spring":
John the Balladeer is a good man armed with faith who uses the sweet and healing waters drawn from weedy mud by the silver strings of his guitar to destroy the witch, Craye Sawtelle.
Fletcher A. Vredenburgh tells us of one of the most famous Silver John tales:
"Owls Hoot in the Daytime," complete with mysterious old dwarf, over-sized possum and Biblical warnings and terrors, is the perfect distillation of what makes Manly Wade Wellman's John the Balladeer stories so much fun.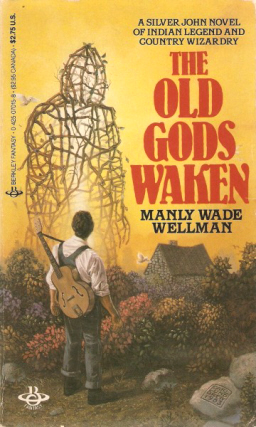 "Owls Hoot in the Daytime" is also included in Owls Hoot in the Daytime & Other Omens, Volume 5 of the Selected Stories of Manly Wade Wellman, published in hardcover by Night Shade in 2003.
Keith Sloan showcases The Old Gods Waken, the first of five Silver John novels, published in 1979, saying:
Few authors have so effectively taken local folklore and myth and brought them to life as Wellman does with his Silver John stories.
Robert Barr is the first of two entrants who recommend a tale from the November 1946 issue of Weird Tales:
Favorite Wellman story is quote possibly "Frogfather", which is so representational of the high quality of pulp horror from the era, and also is a solid sample of the regional horror fiction which Wellman was and is a master of….
Wade German echoes the sentiment:
Manly Wade Wellman achieved weird tale perfection in "Frogfather," a story about man's greed for frogs' legs, his refusal to heed elder wisdom against such hunger, and his eldritch comeuppance delivered by the titular, primordial swamp horror.
Fortunately for those whose libraries don't include a complete set of Weird Tales, "Frogfather" is included in Who Fears the Devil. Silver John isn't mentioned by name, and thus it isn't a proper Silver John tale, but Wellman himself often referred to it (and the other proto-John story, "Sin's Doorway," also included) as early Silver John tales, so they qualify.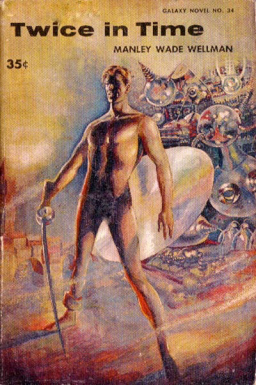 That brings us to an end of the Silver John/John the Balladeer entries. If you're still curious, there's a lot of material for you to investigate — including the movie based on the Silver John stories, The Legend of Hillbilly John, released in 1973.
Speaking of the Night Shade collections, that brings us to our next entry, compliments of Andrew Salmon:
My favorite Manly Wade Wellman tale is "The Devil is not Mocked." Seeing the tables turned on the Nazis is always a treat but seeing it done by "evil" horrors turns the concepts of heroes and villains on their head, leading the reader to embrace the lesser of two evils.
"The Devil is not Mocked" became a Night Gallery episode, and is collected in The Devil is not Mocked (2001), Volume 2 of the Selected Stories of Manly Wade Wellman from Night Shade.
Mark Seganish goes all the way back to 1957 for his entry, the tale of 19-year-old Leo Thrasher, whose experiments with a radical new science propel him 500 years back in time, where an encounter with Leonardo da Vinci proves fateful indeed:
I read Twice in Time more than 30 years ago, honestly all I remember of it is the Wally Wood cover.
Does it even count as a review if you don't say anything about the book??
Well, Wally Wood is one of the finest SF artists of all time, so in this case we'll accept it. But keep your nose clean, Seganish.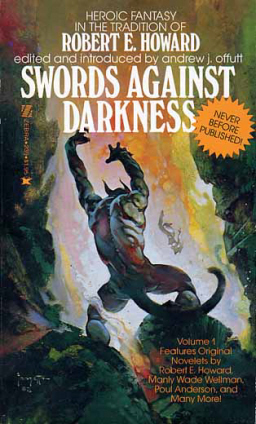 Next up is Tom Parr:
My favorite Wellman story is "Straggler from Atlantis" in the anthology Swords Against Darkness. Wellman turned the genre on its head when he had the hero, Kardios, help giants rather than slay them.
Tom gets bonus points for sneaking in a mention of one of our favorite anthology series (serieses? seresii?) from the 70s, Andrew J. Offutt's Swords Against Darkness. Nice goin', Tom.
Apparently Periklis Begzos, who submitted his entry from Greece, feels the same way about "Straggler from Atlantis":
My one-sentence review concerns my favorite Manly Wade Wellman, Sword-and-Sorcery short story, "Straggler from Atlantis." "Straggler from Atlantis" introduces the heroically romantic Kardios, in an action-packed, self-contained Sword-and-Sorcery tale, that highlights both the romantic/ Bardic, as-well-as the violent/ Swordslinger, aspects of his character.
Jeff Flugel return us to Wellman's Appalachian stories with a tale from Stuart David Schiff's 1979 anthology Whispers:
It's hard to write a one-sentence review, of course, but I find Wellman's "The Dakwa" especially haunting in the originality of its titular monster. The idea of an ancient creature, living in a mountain lake high in Appalachia, feared by the Native Americans for centuries, which mesmerizes its potential prey, is a fascinating one, and Wellman's description of Lee Cobbett's encounter with this menace is a very evocative one.
Technically, that's a two-sentence review, but we'll take it.
Next we turn to those entries which left me scratching my head. Like this one from Caleb Rudd:
"Hok Goes to Atlantis": Hok takes a holiday, finds his way to Atlantis, kills their god, overthrows their evil ruler, floods the place, and makes it back home before Sunday.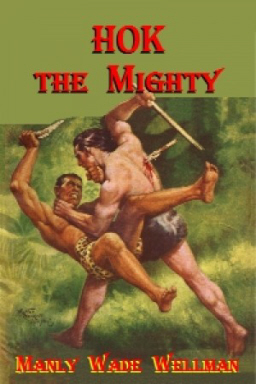 That's a joke, right? You people think I'm asleep at the switch. "Hok Goes to Atlantis." Come on.
Look, all it takes is 5 seconds and Google search to prove that there's no such  story as "Hok Goes to Atlantis." Find some other sucker to scam with your phony contest entries.
Except… there is. In fact, there are six Hok the Caveman stories, all published in Amazing Stories between 1939 and 1942. Pulpville Press even produced a POD collection, Hok the Mighty, gathering five Hok stories, in 2007. It's available in trade paperback via Lulu for under $15 bucks.
I suppose I could be forgiven for overlooking an obscure pulp series from 70 years ago, and an equally obscure POD reprint. But Paizo published all six stories in a handsome 272-page softcover trade paperback in 2011, Battle in the Dawn: The Complete Hok the Mighty. Shows what I know.
Just to prove that Caleb isn't the only one to know about Hok the Mighty, our next entry comes from Matthew Higgins:
I loved the Hok the Mighty stories; paleofantasy is always fun but MWW's ties back to mythology (or forward from the point of view of the stories) made these extra fun.
Fine. I'm ignorant of our pulp heritage. Let's move on.
The distinguished Barbara Barrett, blogger and REH expert, comes to my rescue with the next entry, our first featuring hero John Thunstone:
Pagan rites, unnatural obelisk observances as well as a magic sword made of silver that is more than just a sword, time traveling and fighting with members of a tribe who lived 10,000 years ago, a waking monster… The book What Dreams May Come by Manly Wade Wellman goes on and on with supernatural adventure…. John Thunstone doesn't get much better than this.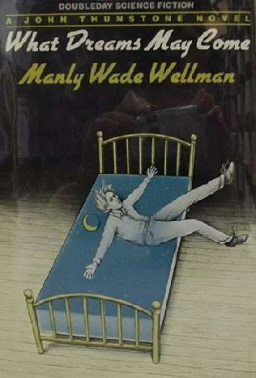 Bob Freeman chimes in with praise for the same source:
Manly Wade Wellman's What Dreams May Come finds occult detective John Thunstone in a rural English village where ancient pagan practices are still very much alive and dark dreams threaten to rouse an ancient god from slumber.
The novel What Dreams May Come was published by Doubleday in December, 1983. The complete text is included in The Complete John Thunstone — as is the sequel, The School of Darkness (Doubleday, 1985).
Daniel Eness takes our one-sentence requirement to extremes:
Because Wells was wrong and Wellman was right and faith in mankind is misplaced but faith in the courage of good men is well-founded, because D-Day was won and Waterloo was lost, due not to the currents of history or the whims of fortune, but to the actions of men, and because – blast it – Martians vs. Bacteria is nowhere near as fun as Martians vs. Me, my favorite book by the author is Sherlock Holmes' War of the Worlds. (Thank God for conjunctions. You never said it had to be a good sentence. I know I'm going to lose on the grounds of not picking a Thunstone story, so I might as well go down swinging for the fences of loquacity.)
I had my doubts about this one too. But I kept my mouth shut until I could check my facts.
Sherlock Holmes' War of the Worlds, co-written with his son Wade Wellman, is a 1975 fix-up novel composed of Holmes pastiche tales originally published in The Magazine of Fantasy and Science Fiction. It was reprinted in an updated edition by Titan Books in 2009.
See, give me 15 seconds with Google and I can fake a flawless memory too.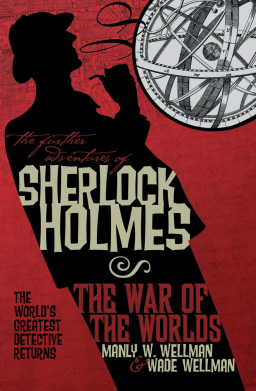 On that note, we turn to our final entry, from bruce99999999, who suggests Manly Wade Wellman fiction not actually written by Manly Wade Wellman:
Some of my favorite Manly Wade Wellman is by his friends — David Drake's "Old Nathan," Vance Randolph's "Blow Out the Candle" (NSFW), or the Kane stories by Karl Edward Wagner set in mountains. Silver John is good too, of course.
We'll accept that just on the basis of its daring.
That completes our selection of some of the best entries in our Complete John Thunstone contest. All eligible contestants were entered into a spreadsheet and assigned a sequential number; we then generated two random numbers using the only scientifically acceptable method: D&D dice.
The winning contestants, both of whom will receive a copy of The Complete John Thunstone, are:
Rick Ollerman

Nick Ozment
Congratulations gentlemen!  Please contact us with your current address, and we'll put your copies in the mail.
In closing, I'd like to thank Stephen Haffner at Haffner Press for his generosity in providing the prizes.
And if, like me, you'll be ordering your own copy of The Complete John Thunstone this week, you can find more details at the Haffner Press website here.
The Complete John Thunstone is edited by Stephen Haffner and was published December 22, 2012. It is 640 pages and priced at $40.