Sorry, Can You Say That Again?
Sorry, Can You Say That Again?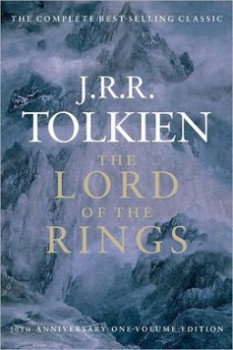 An actor was once asked, "Did you speak German in the film?" He answered, "Well, we spoke 'movie German', you know, British actors using German syntax."
We're all familiar with that phenomenon, aren't we? Though nowadays we're just as likely to get the actual language with subtitles, at least for short bits of dialogue. That's fine for film, but it does make you wonder, how do writers deal with the language issue? Especially those of us writing Fantasy or SF?
After all, we're not all linguistics professors capable of making up a complete language (or more than one, if it should be needed) like you-know-who.
Regardless of what language I might use to speak to friends or family, I write novels in English. And like most of my colleagues in the fantasy-writing world, few, if any, of my characters are either English or English speakers.
Back in the day, when one of the standard conventions of fantasy literature was the stranger-in-a-strange-land (human from our world transported into the secondary world) the issue of language got dealt with in different ways.
CS Lewis ignored it, essentially, in the Chronicles of Narnia, where all the Narnians at least (including the animals) speak British English (and in Calormen, they speak with an Arabian Nights syntax).
As the genre evolved, writers like Barbara Hambly had their primary world characters simply learn the new language, while others had wizards or other magic users intervene to solve the problem magically – what we now consider "the old translation spell ploy."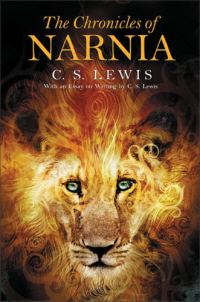 We don't run into this problem much anymore (where we do, we mostly ignore it, as in Stargate), but that might be because we've replaced the early stranger/strange land convention with the urban fantasy, where the visitors are travelling in the opposite direction, and we can assume they speak English.
In urban fantasy, we deal with human foreign languages exactly the same way we would if we were writing non-genre novels. That is, we have our characters speak using the approximate syntax of the language in question, or we use the language itself (usually italicized) and then paraphrase it somehow for those who read only English.
Sometimes a specialized vocabulary is introduced, as Rowling did in Harry Potter for casting spells, and as Jim C. Hines does in in his Magic Ex Libris series for libriomancy. You'll notice both of these authors use Latin as the basis for their specialized vocabulary – for obvious reasons.
Both of these authors also use non-human characters, however, and have to find a way to convey their alien qualities using language alone – at least until the films are made.
And lest we think this kind of thing happens only in Fantasy writing, let's not forget how language is dealt with in, say, A Clockwork Orange. Anthony Burgess – another linguistics expert – created an evolved English, one that included slang and vocabulary from then-unheard of sources, to give his work its special futuristic flavour.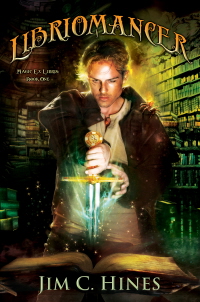 In the same decade, Heinlein did something similar in The Moon is a Harsh Mistress, this time creating both an evolved language, and a specialized one that pertained to convicts and their descendants living isolated from the rest of humanity. But both Burgess and Heinlein were dealing with humanity, or at least near-future humanity, and weren't trying to convey a level of alien flavour beyond that.  What about SF writers who, like Fantasy writers, are introducing non-humans into the mix?
Some, like Larry Niven in his Known Space stories, use the "universal translator" idea (otherwise known as the old translation spell ploy), and have their aliens speak what is often perfectly idiomatic English – we know it is, because Niven tells us so. But what about when a writer wants to convey a real alien quality to their characters' language? How does that happen?
Well, I hate to say that they use British accents and foreign syntax . . . but honestly, screwing with the syntax, spelling and use of contractions really are some of the ways to do it.
This can give even humans a real alien feel. Think of Ian M. Banks's Feersum Endjinn, or (on a slightly different note) Jonathan Lethem's Motherless Brooklyn.
Can anything give you more of a feeling that you're dealing with a perspective very much removed from the normal than something like: "Id like 2 kno whotz thi rite way 2 land from this hi up, I sez, leenin out over thi drop wif thi wind in my hare & gayzin doun thi way @ thi treetopz ov thi forist-floar, what must b a gude cupil ov hundred meetrs blo." And it gets worse; once he's got you used to it, Banks starts using "eye" for "I", and "no" for "know" as well as "no".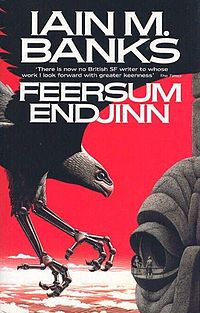 Now I know what you're thinking. I've talked about primary world Fantasy, and I've talked about near-and-far future SF, but what about secondary world fantasy? What about Heroic or Sword-and-Sorcery Fantasy? Well, that subject interests me so much, that I'd like to deal with it separately. So check in with me again next week.
Oh, by the way, there's an ironic consequence of that "movie German" approach. In the Antonio Banderas version of The Mark of Zorro, (great sword fights, by the way), at least two of the main characters are played by British actors (Anthony Hopkins and Catherine Zeta-Jones, both Welsh, I believe, but you get my drift). They speak "movie Spanish" – that is, British accents with Spanish syntax.  Ironically, this makes Antonio Banderas's genuine Castilian accent sound fake, because it doesn't sound like everyone else's.
That's right, it made the only actual Spanish speaker in the cast sound as if he wasn't Spanish.
Ain't art grand?
---
Violette Malan is the author of the Dhulyn and Parno series of sword and sorcery adventures, as well as the Mirror Lands series of primary world fantasies. As VM Escalada, she writes the soon-to-be released Halls of Law series. Visit her website www.violettemalan.com.