Art of the Genre: The Weight of Print
Art of the Genre: The Weight of Print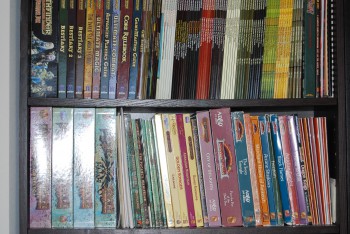 When I was a kid, I loved where I lived. Honestly, I had a great childhood, raised along a tranquil riverbank in a peaceful little town in northwest Indiana. I had no siblings to distract me from my internal reverie, was cared for by a loving mother who chose me over all else, and had friends fostered from Kindergarten all the way to High School Graduation.
I would sit and wonder about all the kids in my class that would rage and swear at our small town, and 'how they were going to get out as soon as they could'. To me, I could think of no place I'd rather be.
However, upon graduation I moved to southern Indiana to go to university, and by my sophomore year had met my wife. She, unlike me, had a turbulent childhood with dozens of moves and no lifelong friends or a place that she identified as 'home'. As is the case with most single children who become involved with people who have many siblings and large families, I was pressed to follow her family and so began a journey that has taken me all over the U.S. in the intervening years.
Yes, the kid who never wanted to leave his town has lived in half a dozen states and moved more times than I'd like to remember, which is to say pretty much every three years for two decades.
Why do I bring this up, you might be asking yourself? Well, I bring it up because of my books, most specifically my RPG books. If you have ever had to move, you know the burden each piece of your life [bed, couch, clothes, kitchen supplies, etc.] places on you as you try to pack it, protect it, and hump it into trucks, cars, up steps, down steps, and across countless miles.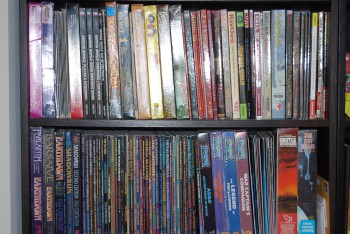 In this, I have two things that are notorious strikes against me.  One, I'm a collector, and Two, I'm a Game Master.
As a collector, it is my instinct to horde stuff, and I inexplicably feel compelled to 'finish' every collection I start, owning everything of any particular object of my desire. For over a decade of moves I lugged around fifteen long boxes of comics that I never read or intended to read, until I finally purged them in 2009 before a move from Maryland to California. The weight of all that print was horrific, but I finally let it go, and my life has been better ever since.
I did the same thing in 2006 with my huge collection of paperback books, seven large boxes of them, devastating to both my back and workspace. They garnered me $24.56 at a used book seller, but I let them all go, and my life was better for it.
Still, the one thing I can't seem to get rid of is my RPG collection, and as I sit writing this today, looking at an entire wall of games, I have to ask are these books here for a reason?
Like most gamers who are also Game Masters, it has been my responsibility to invest heavily in game content for the games that I run. Where a player can get away with a single core book, GMs must have nearly everything else that the company releases as source material to run an effective campaign. However, the real burden hits when the campaign ends.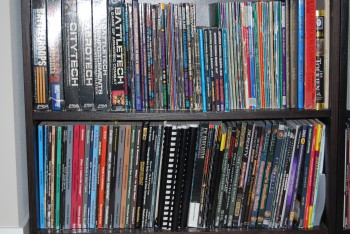 Once you and your players tire of a game, all that was acquired for it gets moved to a shelf to sit, more often than not, never to be used again. So it has gone for me with Star Frontiers, Planescape, Spelljammer, Shadowrun, Battletech, Earthdawn, Middle-Earth Role-Playing, Legend of the Five Rings, Robotech, Rifts, Conan, Marvel Super Heroes RPG, Boot Hill, Gangbusters, Gamma World, Call of Cthulhu, Deadlands, and Dark Sun.
Then you take into account the small campaigns and one shots like Runequest, Indiana Jones, Al-Qadim, Game of Thrones, Warhammer Fantasy RPG, 7th Sea, Exalted, Starship Troopers, Space: 1889, Alternity, Aliens, Dangerous Journeys,  D20 Modern, Top Secret, and Baptism by Fire.
And even with all that, you haven't touched on the juggernauts of Dungeons & Dragons and its various editions, including the powerful spinoff of Pathfinder. And inside AD&D there are a plethora of worlds with supplements as small as a boxed set to as extensive as a twenty-book hardcover collection like the Hollow World Gazetteers, Undermountain, Maztica, Kara-Tur, Ravenloft, The Horde, Dragon Mountain, Menzoberranzan, Dragonlance, and all that is the massive Forgotten Realms. (Note: Yes, I've played at least an adventure, and more likely at least one campaign in everything I've listed above.)
Then atop all this, we can't forget the dozens of modules (for the layman RPG pre-generated adventures) and magazines like Dragon that find their way into a gaming library.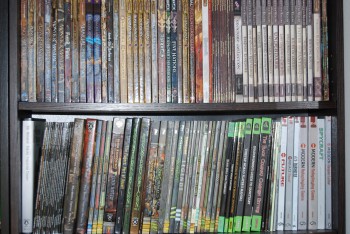 So, in total, you are facing the movement of hundreds of large hardcovers, softcovers, and boxed sets which is both daunting and frustrating in the extreme. That, then, forces the owner to take a long hard look at what they have accumulated and once again ask why? (Note: I dare John O'Neill to attempt to move his 'Cave of Wonders' and see what his wife says about it, much less his collection of softcover novels!)
Why do we maintain such collections? Do we really believe we will need them at some point? Is there somehow a place in our busy lives to crack out and relearn a game we played when wewere fourteen on a single Sunday during the summer back in the 1970s or 80s?
Do you buy into the fallacy that because you've collected this stuff, it will somehow fund your retirement? I mean, there certainly is a market on eBay for gaming material, but I'd wager it is dwindling just as the gamers themselves are. I'm a relatively young gamer at 41 and am still 'old' to be playing these games, and I have to consider that Gygax and Arneson have passed away, as have so many of those who founded the genre.
RPG books, as something of monetary worth, will die with their players because in an age of tablets and PDFs, the weight of print will continue to collapse on itself. What young gamer, assuming they even choose to do a table-top RPG, wouldn't prefer to have their entire library on their iPad or Kindle? Who wouldn't want to highlight and search a word for all reference to it in their media library in seconds? We have begun a touchscreen generation, and everything I look at on these shelves is now reduced to my psychosis, not a true dollar sign.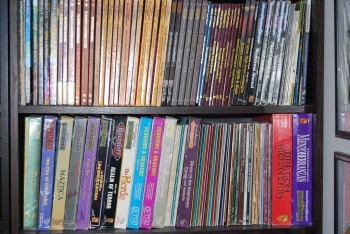 I must then face that fact that I keep them because they remind me of something. Most likely my youth, and whatever small memory remains of the laughter and comradery that went along with a particular group of characters and their players on a certain lost date in the past.
However, as of late, I've decided that I will make it a priority to go back and find one last day in the sun for many of my most beloved and abandoned games. Last year, I took down Spelljammer and had a marvelous campaign using it, and the same was done with Gamma World a few months later. This year, I'm going to make an attempt to play Battletech and, if I'm lucky, perhaps Shadowrun in the late summer or fall.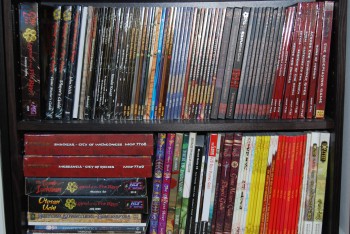 If I've carried it with me, and if I've looked my wife in the eye each time I've boxed them up and taken that unspoken 'why are you doing this' abuse, then by God I should at least get something back because in the end memories are all I will get from these printed loadstones.
So what conclusion do I draw from all the above? I suppose that entertainment is no longer going to be owned, but borrowed. In a sense, that is a beautiful thing because it unburdens life as all your movies, games, books, and images are there for you on a cloud, waiting to be viewed by you in Indiana or Bora Bora.
However, one will never get the nostalgia of seeing a life's worth of collected memory sitting against a wall. In the end, with my arms tired and my back bent, the cloud is sounding more and more pleasurable, no matter how good all this looks once I've settled into my latest office.