Renovating Tegel Manor
Renovating Tegel Manor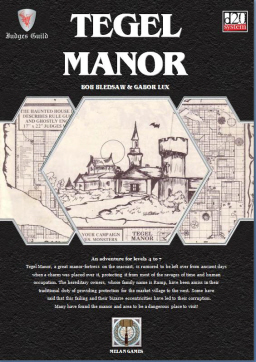 While I was assembling my Judges Guild article on Tuesday, I stumbled on an odd reference to a revised version of one of their earliest (and most famous) products: Tegel Manor. I'd never seen a copy however, and was pretty sure it didn't exist, so I set it aside to investigate later.
What makes Tegel Manor so famous? I don't think I could articulate its wonders as well as the talented James Maliszewski, author of the Grognardia blog; here he is:
Tegel Manor is without a doubt one of Bob Bledsaw's masterpieces. Describing a sprawling 240-room haunted castle, the module is a textbook example of a funhouse dungeon, utterly lacking in anything resembling an ecology and filled with many encounters for which the adjective "whimsical" is charitable at best. The contents and/or inhabitants of each room are random — in some cases literally — meaning that, here you might find nothing more threatening than some giant beetles but next door you might find a Type III demon polymorphed as a kindly old beggar…

With its random encounter charts containing 100 members of the cursed and unfortunately named Rump family (all of whose names start with the letter R) and its goofy encounters ("Four Zombies … bowing to a Giant White Rat … in a pink cape and red plumed hat"), it certainly seems that way. It's one thing to sidestep naturalism, but Tegel Manor goes above and beyond the call of duty when it comes to "gonzo."

But the map is a thing of beauty. Nothing — and I mean nothing — has ever beaten it… It's filled with winding passages, secret doors, mazes, empty rooms, weird features, and more.
James's complete review is here. Tegel Manor was originally released in 1977, and revised and expanded in later editions. A little digging revealed that Necromancer Games had contracted to do an updated version for the Old School Renaissance market — and even produced the cover at right — but Judges Guild withdrew the rights before it saw the light of day. But that's a story that deserves a post of its own.