Star Soldiers and Other Free Kindle Books at Amazon.com
Star Soldiers and Other Free Kindle Books at Amazon.com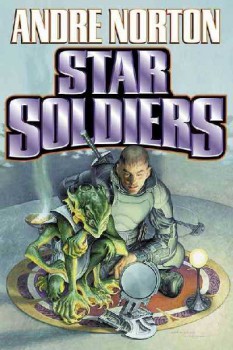 One of the nice things about my Kindle is the occasional free e-book or two. Sure, you have to hunt for them, and they're rarely available for long, but that's all part of the fun. For book lovers it's much like the thrill of Black Friday sales, without having to get off the couch. Or stampeding over some guy from Hoffman Estates to get to that David Weber novel.
As part of our continuing efforts to bring you great reading without getting off your couch, we're proud to present you a list of free Kindle titles from Baen Books, including Star Soldiers, an omnibus volume of two classic novels from SFWA Grand Master Andre Norton: Star Guard (1955) and Star Rangers (1953).
Star Soldiers, Andre Norton
Time Traders, Andre Norton
Northworld Trilogy, David Drake
The Tank Lords, David Drake
Seas of Venus, David Drake
The Sea Hag, David Drake
Starliner, David Drake
With the Lightnings, David Drake
A Desert Called Peace, Tom Kratman
On Basilisk Station, David Weber
The Honor of the Queen, David Weber
All are available from Amazon.com.
Just like Black Friday sales, free Kindle books tend to vanish quickly. So if you're interested, we suggest you act fast.
Thanks to the hard-working John DeNardo at SF Signal for the tip!