Win a Copy of The Complete John Thunstone, by Manly Wade Wellman
Win a Copy of The Complete John Thunstone, by Manly Wade Wellman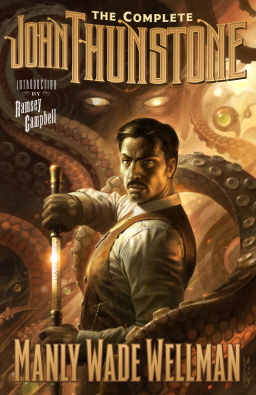 Haffner Press has released the long-awaited pulp compilation The Complete John Thunstone, and we have two copies to give away.
To be completely blunt, I don't want to give them away. You wouldn't either, if you held this fabulous book in your hot little hands as long as I have. But that's showbiz. If it were legal, I'd enter my own contest, like, three dozen times. (In fact, is that legal? Hmmm.)
Anyway. Yes, we're having a contest. If no one enters, I suppose I get to keep the books. So… there's a contest, but that's all you get to know.
All right, fine. Bunch of complainers. Here's the scoop: Just send an e-mail to john@blackgate.com with the title "John Thunstone" and a one-sentence review of your favorite Manly Wade Wellman novel or short story (don't forget to mention the story). Two winners will be drawn at random from all qualifying entries, and we'll publish the best reviews here on the Black Gate blog.
All entries become the property of New Epoch Press. No purchase necessary. Must be 12 or older. Decisions of the judges (capricious as they may be) are final. Not valid where prohibited by law. Or anywhere postage for a hefty hardcover is more than, like, 10 bucks. Seriously, this thing is huge and we're on a budget.
Haffner's archival-quality hardcovers  — including Henry Huttner's Detour to Otherness, Terror in the House: The Early Kuttner, Volume One, and Thunder in the Void; Leigh Brackett's Shannach – The Last: Farewell to Mars; and Robert Silverberg's Tales From Super-Science Fiction — are some of the most collectible books in the genre, and The Complete John Thunstone promises to be no exception. Our original article on the book is here.
The Complete John Thunstone is edited by Stephen Haffner and was published December 22, 2012. It is 640 pages and priced at $40. Additional details at Haffner Press.