Vintage Treasures: The Fuzzy Papers by H. Beam Piper
Vintage Treasures: The Fuzzy Papers by H. Beam Piper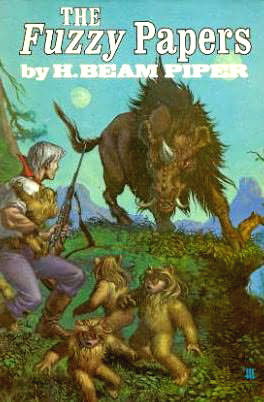 The Fuzzy Papers was one of the first science fiction books I ever read, and it's one of the small handful of books that made me an SF reader for life.
The Fuzzy Papers contains two novels by H. Beam Piper, Little Fuzzy (1962) and Fuzzy Sapiens (1964, also known as The Other Human Race), and was published by the Science Fiction Book Club  in 1980. I joined the SFBC at the age of 12 at the urging of my friend John MacMaster, who turned me on to science fiction by loaning me book club editions from many of its finest writers, including Frank Herbert and Clifford D. Simak. The club specialized in low-cost reprints of popular SF and fantasy, ideal for a teen with little disposable income, and best of all, it occasionally produced magnificent omnibus editions of genre classics.
The Fuzzy Papers was a perfect example. Available exclusively through the club, it collects two long out-of-print paperbacks in a durable hardcover with a beautiful Michael Whelan cover, all for under 7 bucks. Not the kind of thing an impressionable teen could resist, and I didn't even bother to try. I checked off my order form and put it back in the mail pronto, and impatiently waited for it to arrive.
I was not disappointed. Piper's novels follow the adventures of down-on-his-luck space prospector Jack Holloway, who's been exploring the planet Zarathrustra — a Class III uninhabited world run for profit by mining magnate Victor Grego. But everything changes when Holloway discovers the Fuzzies, curious little humanoids that almost seem to have the power to reason.
In fact, the more he interacts with them, the more Holloway is convinced they can reason — and if the Fuzzies are intelligent, that makes Zarathrustra a Class IV inhabited world, and Grego's mining privileges would be gone for good. His company isn't going to let that happen, no matter what the cost.
I adored The Fuzzy Papers the way only a young teen can, and it immediately became one of my favorite books. And while it never became a major genre bestseller the way Dune or Asimov's Foundation did, a curious thing happened — other writers felt compelled to write Fuzzy novels, especially after Piper's suicide in 1964.
William Tuning was first with Fuzzy Bones in 1981, and Ardath Mayhar followed with Golden Dream: A Fuzzy Odyssey in 1982.
Fuzzy Ergo Sum by Wolfgang Diehr appeared in March, 2011, and you may have seen the most famous example, John Scalzi's Little Fuzzy re-telling titled Fuzzy Nation, published in May of the same year.
Piper's influence doesn't end there — many writers have confessed to the direct impact these novels have had on their own writing. Elizabeth Bear, for example, says her 2007 novel Undertow was directly inspired by Little Fuzzy.
When my son Tim began reading SF in his early teens, the first book I gave him was The Fuzzy Papers. He devoured it with the same enthusiasm I did three decades ago. He's read the book countless times — so often in fact that I had to replace my original copy, which was on the verge of disintegrating. You'd think a Book Club edition from 1980 would be hard to find in new condition, but that's because you underestimate the Internet (again). Amazon and eBay have dozens of copies listed on any given week, and I found an unread copy in perfect condition for under 10 bucks… not much more than I paid in the spring of 1980. God bless the Age of the Internet.
Surprisingly, the story doesn't end there. Fuzzy fans were given one last gift from Piper shortly after The Fuzzy Papers first appeared: the sequel they truly wanted. Among Piper's manuscripts and papers was an unpublished third Fuzzy novel. It finally appeared in print from Ace Books as Fuzzies and Other People in 1984.
All three novels have now been collected in The Complete Fuzzy, a 454-page compilation volume from Ace Books, originally published in 1998. It has been in print for nearly fifteen years, and is one of the great treasures of science fiction.
If you haven't yet discovered the Fuzzies, that's the place to start.