Swords & Dark Magic: The New Sword and Sorcery Only $6.40 at Amazon.com
Swords & Dark Magic: The New Sword and Sorcery Only $6.40 at Amazon.com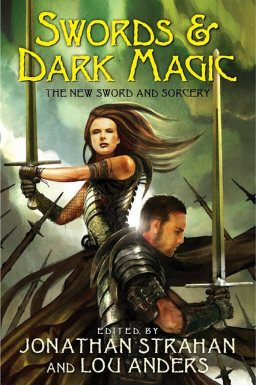 One of the best swords & sorcery anthologies of the last ten years is available at a deep discount on Amazon.com.
Swords & Dark Magic, edited by Jonathan Strahan and Lou Anders, contains 17 original stories — including a new Elric novella by Michael Moorcock, a Majipoor tale by Robert Silverberg, a Cugel the Clever tale by Michael Shea, a Black Company story by Glen Cook, and a brand new Morlock tale by James Enge. Contributors include Steven Erikson, C. J. Cherryh, Scott Lynch, Bill Willingham, Joe Abercrombie, Tanith Lee, Garth Nix, Greg Keyes, Gene Wolfe, Tim Lebbon, Caitlín R. Kiernan, and many others.
Our man Jason Waltz examined it in one of the longest and most detailed reviews we've ever published.
At Worldcon, I had the pleasure of hearing James Enge read his fabulous story "The Singing Spear" — which includes the classic line "You killed my bartender!" James is one of our most gifted practitioners of modern S&S, and "The Singing Spear" is one of his finest stories. It's worth far more than $6.40 all on its own — and if you get the chance, hearing James read it live is worth far more than that.
Our most recent round-up of discount fantasy titles at Amazon is here.
Swords & Dark Magic was published by Avon Eos in June 2010. It is 519 pages, and was originally priced at $15.99. While copies last, it is being sold online for $6.40 at Amazon.com.