Nathan Shumate Looks at Lousy Book Covers
Nathan Shumate Looks at Lousy Book Covers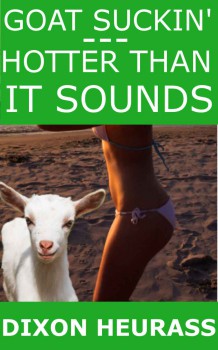 It's a lot easier to publish a book than it used to be.
So easy in fact that people are doing it themselves. They're doing away with traditional print and distribution, all the hassle of finding an agent, publishing contracts, and 20th Century promotional models entirely.
Unfortunately, in the process many of them are also getting rid of things they probably shouldn't. Things like book design, and cover art. And marketing.
Or even proof-reading. I mean, who needs that, right?
Sadly, the result is that some good books are getting buried under terrible cover art, or painfully sub-standard art design. Nathan Shumate has made it his mission to showcase daily examples at his blog, Lousy Book Covers. Today's poster child, Dixon Heurass's Goat Suckin', is sub-titled "Hotter Than It Sounds" (as Nathan dryly observes, "It would have to be, wouldn't it?")
Check out the many additional examples at Nathan's blog to see just how many different ways there are to screw up cover art, or totally obscure passable art with poor title placement and font color.
We last discussed Nathan Shumate on the publication of his delightful experiment in communal self-publishing, Space Eldritch (which has a thoroughly excellent cover, incidentally).