New Treasures: Pirate Freedom by Gene Wolfe
New Treasures: Pirate Freedom by Gene Wolfe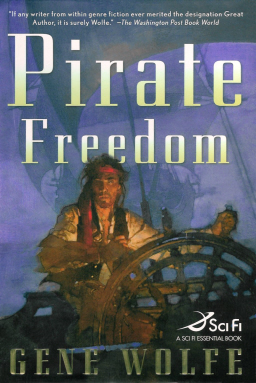 I love bargain books. I love pirate books. And I love Gene Wolfe books. So I don't need to tell you how I feel about bargain pirate novels by Gene Wolfe.
Pirate Freedom was released in hardcover in November 2007, and in trade paperback three years later. It's a swashbuckling adventure novel — Sci-Fi Weekly called it "straight up adventure in the mold of Robert Louis Stevenson, Rafael Sabatini, or even the Pirates of the Caribbean films" — but as you'd expect from Wolfe, he adds an unexpected twist or two.
It begins in a monastery in Cuba the day after tomorrow, where a boy named Chris realizes he's not meant for the priesthood, and sets out for the streets of Havana. From there it becomes a tale of time travel and fantasy adventure. The San Francisco summed it up thusly:
Plenty of action, romance, and historical color. Nearly every pirate cliche is given a new spin, from mutinous crews to cursed ships, from beautiful women in disguise to treasure beyond imagining.
Still, I hadn't gotten around to picking up a copy until this week, when I noticed that Amazon had marked down the price by 60% — to $9.98 for the hardcover, and just $6.40 for the trade paperback. If you're interested in a copy, act quickly; there are only about half a dozen left.
Pirate Freedom was published by Tor Books. It is 320 pages, and was originally priced at $24.95 for the hardcover, and $15.95 for the trade paperback. The gorgeous cover is by David Grove (click on the image at right for a larger version).