George R.R. Martin: "A Writer Who Needs to Get Writing"
George R.R. Martin: "A Writer Who Needs to Get Writing"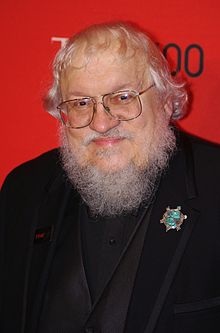 George R.R. Martin is profiled by The Huffington Post today in a piece titled "13 Writers Who Need To Get Writing."
Martin is the poster child — his smiling face is at the top — but the article also pokes Philip Pullman ("We want him to write The Book of Dust, the latest companion book to the His Dark Materials series"), George Saunders ("His quirky, disturbing sci-fiesque suburban short stories have critics fighting over each other… write a goddamn novel already"), and The Night Circus author Erin Morgenstern ("Morgenstern says her next book is "a film noir-flavored Alice in Wonderland"… WE WANT TO READ IT NOW.")
In other GRRM news "The Princess and the Queen," a new novella set in the world of A Song and Ice and Fire, will appear in Martin and Gardner Dozois's upcoming "massive crossgenre anthology" Dangerous Women. Here's the scoop from Martin's blog:
Mine own contribution… well, it's some of that fake history I have been writing lo these many months, the true (mostly) story of the origins of the Dance of the Dragons. The stand-alone stories, not part of any series, feature some amazing work as well. For those who like to lose themselves in long stories, the Brandon Sanderson story, the Diana Gabaldon story, the Caroline Spector story, and my "Princess and Queen" are novellas. Huge mothers.
Read the complete details at Tor.com.