A Slew of Old D&D (and AD&D) Books Now Available Digitally
A Slew of Old D&D (and AD&D) Books Now Available Digitally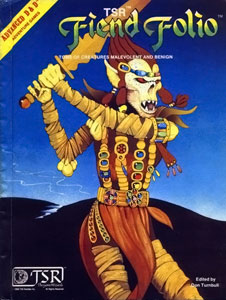 Yesterday, Wizards of the Coast officially released the first wave of backlist products available in digital format. These books are available in PDF format through DriveThruRPG, and you can access all of the Wizards of the Coast titles there … or through their new website, DnDClassics.com.
The move to make their classic backlist titles available was originally announced back at their GenCon keynote (which I liveblogged back in August). The ultimate plan is to have every Dungeons & Dragons resource ever published available, but that'll obviously take a while.
They appear to have started with collection of about 86 products, ranging from some core rulebooks, adventure modules, setting manuals, and so on. Even in just this first wave of products, we've got access to some truly classic material, such as the Basic Set Rulebook and the original Fiend Folio for Advanced D&D.
Trivia: According to Wikipedia (so it must be true), the gythyanki featured on the cover of the Fiend Folio was actually designed by Charles Stross, based upon creatures that appeared in a George R. R. Martin story!
As someone who began gaming in the early 90's, I tend to view my "original" version of the game as AD&D 2nd edition. Many of these are books that have only ever been available to me by digging through second-hand bins at convention booths, so it's nice to have access to them now.
I'm really looking forward to the full range of products. Right now, they have a handful of Ravenloft titles, but I'm also interested in getting access to the rest. I never owned any of the Ravenloft sourcebooks, though I did once play a brief adventure in that setting as part of a Planescape adventure (there are some Planescape titles, as well), so it'll be nice to learn more about it.
Moving forward, Wizards of the Coast will be focusing their attention on expanding the Forgotten Realms as their core game world rather than dividing their energies among all the different franchises. They are planning, however, to release conversion rules, so that players should be able to adapt the game and setting information from these classic volumes into Dungeons & Dragons 5th Edition as it rolls out. So Old School Renaissance gamers, and those who love the other settings like Dragonlance or Dark Sun, will be able to play with 5th edition rules if they'd like.
Which supplements are you most looking forward to? And with any edition of D&D to choose from, which will you be most likely to play?