New Treasures: Lords of Waterdeep
New Treasures: Lords of Waterdeep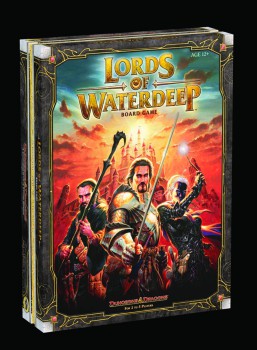 Well, the holidays are finally over and all the gifts have been put away. Unless you're like me and you piled them all in the living room so you can gaze at them happily.
My family has started to complain, though. I asked for a lot of games, and consequently this year's haul is a little harder to step over. I can't help it — ever since I was a kid, I've equated the holidays with gaming. There's just something joyful about gathering all your closest friends and family together for a friendly game of strategy around the kitchen table at Christmas. And then, crushing them all with an iron fist.
Of course, anyone can crush their opponents in a routine game, as I'm fond of saying (every time I lose, without fail, my friends tell me). It's only the most challenging games, those that add those rare elements of intrigue and power politics, that yield a true sense of triumph.
Forget strategy — I want a game where I can play to my strengths. Backstabbing and subterfuge, that's what I'm good at.
Which is why I've been so interested in Lords of Waterdeep, the new Dungeons & Dragons board game from Wizards of the Coast.
Here's what Andrew Zimmerman Jones said in his preview last March:
Lords of Waterdeep is a board game based around the intrigues of Waterdeep, the political hub of the Forgotten Realms. Instead of playing Adventurers caught up in these intrigues, you are one of the Lords of Waterdeep, gathering adventurers to your cause and sending them out on quests to advance your agenda…

The folks over at Dungeons & Dragons have definitely come up with a quality product in Lords of Waterdeep. After years of being an Adventurer caught in the intrigues of others, it's nice to assume the role of puppet master.
Puppet master? See, that's what I'm talking about. Sending your carefully nurtured minions out to foil the plans of your high school buddies, or crush the last hopes of your children? That's the Christmas spirit right there.
That's why I asked Santa to bring me a copy. Unfortunately, I forgot to ask the big guy to also get me some more free time so, as of today, my new copy of Lords of Waterdeep is still in the shrinkwrap.
Fret not. I'll find a way to assume the mantle of a Waterdeep Lord soon enough. And when I do, I'll report back here to gloat. And maybe get some strategy tips.
Lords of Waterdeep was published in 2012 by Wizards of the Coast. It is priced at $49.99; typical game time is one hour.