Throne of the Crescent Moon: "The Best Fantasy Swashbuckler of the Year"
Throne of the Crescent Moon: "The Best Fantasy Swashbuckler of the Year"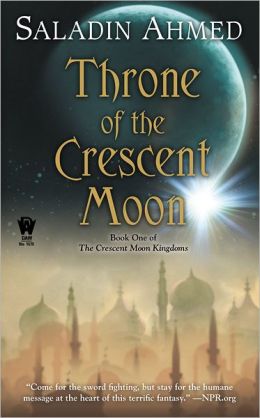 Long before I heard about Saladin Ahmed's first novel Throne of the Crescent Moon, I heard great things about its author.
In 2009-2010, Saladin was busy making a name for himself with a series of very well-received short stories, published in such places as Apex Magazine, Beneath Ceaseless Skies, and Strange Horizons. His "Hooves and the Hovel of Abdel Jameela," which originally appeared in Mike Allen's Clockwork Phoenix 2, was a finalist for the 2010 Nebula Award for Best Short Story. By the time I met him at the World Fantasy Convention in Columbus, Ohio in 2010, the buzz was unmistakable. This was a writer who was going places.
Our Managing Editor Howard Andrew Jones spoke enthusiastically about Saladin's upcoming novel on a panel on Arabian Fantasy at WFC, saying he was a writer who brought a genuine love of Arabian history and a natural storyteller's talent to adventure fantasy.
When you've been in the industry as long as I have, you get used to young writers getting talked up at conventions. But when Throne of the Crescent Moon arrived last February, it exceeded all expectations. The Magazine of Fantasy & Science Fiction called it "A delight in every imaginable way," and io9 said it was "The best fantasy swashbuckler of the year so far." Howard was right: with a single novel, Saladin Ahmed has vaulted to the front rank of modern adventure fantasy writers.
Throne of the Crescent Moon follows the exploits of Doctor Adoulla Makhslood, "The last real ghul hunter in the great city of Dhamsawaat," who's more interested in a quiet cup of tea than adventure. But the Crescent Moon Kingdoms are on a knife's edge as a power struggle between the iron-fisted Khalif and the master thief known as the Falcon Prince reaches a boiling point. As the city begins to slide into open rebellion, a series of mysterious and brutal supernatural murders strike even greater fear into the populace. When Adoulla and his companions learn the murders are somehow connected to the rebellion, they're swept up in a plot that threatens to destroy their city.
Throne of the Crescent Moon is the first volume in The Crescent Moon Kingdoms trilogy. It was released in hardcover in February 2012, and finally arrived in paperback on December 31. It is 367 pages in paperback, priced at $7.99 for the print and digital versions. The mass market edition is sure to reach an even wider audience and grow Saladin's already vast legion of fans. Don't be one of the last to catch on.