New Treasures: Circus: Fantasy Under the Big Top, edited by Ekaterina Sedia
New Treasures: Circus: Fantasy Under the Big Top, edited by Ekaterina Sedia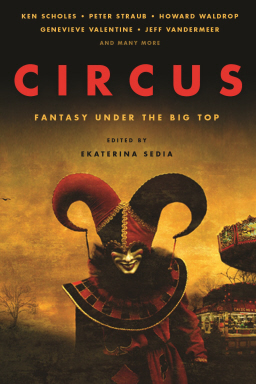 Seems like I've done an awful lot of New Treasures posts this week. So I guess one more won't matter.
Good thing too, because I'm dying to tell you about Circus: Fantasy Under the Big Top, a new anthology from Ekaterina Sedia and Prime Books.
Have you ever seen a book and wanted it immediately? I mean, you just got the concept instantly, and knew it was what you were looking for?  What am I talking about — of course you have.
Well, that's what happened with me and Circus. I was innocently browsing on Amazon, shopping for… well, I forget exactly. Anyway, there it was, displayed in 76-pixel glory in the Customers Who Bought This Item Also Bought widget (and man, the anonymous software engineer who invented that damn thing has cost me a fortune, lemme tell you.)
And I got it: a reprint anthology featuring classic fantasy tales of circuses light and dark. I was sold the moment I laid eyes on the terrific cover by Malgorzata Jasinska (click on the image at right for the full-sized version). Here's Ekaterina Sedia from her introduction:
We have collected tales of children running away to join the circus and circuses doing the same, stories of circuses not of this world (in all senses of the word), circuses futuristic, nostalgic, filled with existential dread and/or joy. Acts mundane, and spectacular, and incomprehensible. Clowns and extinct animals. Magicians and werewolves. Acrobats and living musical instruments… Because we cannot help but love them — for the sake of the children we once were, or for the sake of the better adults we long to become.
Circus: Fantasy Under the Big Top includes tales by Peter Straub, Jeff VanderMeer, Genevieve Valentine, Barry B. Longyear, Howard Waldrop, Neal Barrett Jr, Kij Johnson and many more. Complete Table of Contents after the jump.

Ekaterina is also the editor of the World Fantasy award-winning Paper Cities, Running with the Pack and Bewere the Night. Here she has assembled a terrific cross section of modern fantasy, from Peter Straub to Jeff VanderMeer to Howard Waldrop:
Introduction, by Ekaterina Sedia
"Something About a Death, Something About a Fire," Peter Straub
"Smoke & Mirrors," Amanda Downum
"Calliope: A Steam Romance," Andrew J McKiernan
"Welcome to the Greatest Show in the Universe," Deborah Walker
"Vanishing Act," E. Catherine Tobler
"Quin's Shanghai Circus," Jeff VanderMeer
"Scream Angel," Douglas Smith
"The Vostrasovitch Clockwork Animal and Traveling Forest Show at the End of the World," Jessica Reisman
"Study, for Solo Piano," Genevieve Valentine
"Making My Entrance Again with My Usual Flair," Ken Scholes
"The Quest," Barry B. Longyear
"26 Monkeys, Also the Abyss," Kij Johnson
"Courting the Queen of Sheba," Amanda C. Davis
"Circus Circus," Eric Witchey
"Phantasy Moste Grotesk," Felicity Dowker
"Learning to Leave," Christopher Barzak
"Ginny Sweethips' Flying Circus," Neal Barrett Jr
"The Aarne-Thompson Classification Revue," Holly Black
"Manipulating Paper Birds," Cate Gardner
"Winter Quarters," Howard Waldrop
Circus: Fantasy Under the Big Top was published by Prime Books in August, 2012. It is 311 pages in trade paperback, and priced at $15.95 (or $6.99 for the digital edition).