Vintage Treasures: Andre Norton's Velvet Shadows
Vintage Treasures: Andre Norton's Velvet Shadows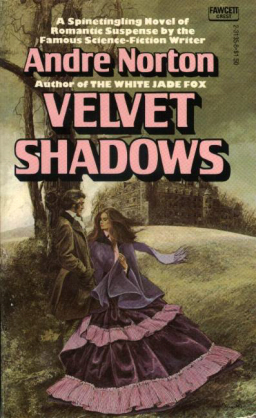 My home is pretty cool. There are teetering piles of unread books everywhere, ready to topple like late August sunflowers. And if I only had time to review a few, it might be even cooler.
Fortunately, I'm not the only one who lives here. Occasionally, the other inhabitants find something that catches their eye, and when I see that happen I grab a notepad and try and coerce some comments out of them. It's not the perfect family dynamic, but at least it's something we do together.
I don't get to choose what my family reads, obviously, so these reviews-by-proxy tend to be an odd lot (the last one was The House of Dead Maids, which I discovered my daughter enjoying a while back). Last weekend, I noticed my wife had casually picked up a copy of Andre Norton's Velvet Shadows. I debated for a second before grabbing my notepad. Andre Norton, vintage paperback, gothic romance… Well, close enough to Black Gate territory for our purposes.
What follows is a raw transcript of our conversation, which she agreed to have published here only after I promised not to use her real name on the Internet. Not everyone has a taste for fame, I guess.
John O'Neill: Well, how was it?

Unidentified Reviewer #1: It was terrible.

JO: Okay that's a little more, uh… concise than our usual reviews. What else you can tell us?
It's a dumb book.

Well, what can you tell us about the plot?

It's kinda complicated really, but… Seriously? Are you writing down everything I'm saying?

That's how this works. Please continue.

That's ridiculous. Okay. This woman is hired to accompany another woman, who is presented as the half-sister of a Mister Sauvage, who owns all these estates near San Francisco. The woman is hired to keep the sister from some guy — who don't know who he is. And then… long and short, the half-sister is not a half-sister at all. She's married to this biracial voodoo priest. And this is all a plot to get control of Mr. Sauvage's estate.

Of course.

Of course. It's a plot about voodoo that's way over the top. A lot of racial stereotyping. I didn't like it.

You read the whole thing?

I read the whole thing.

Why?

Because I always do. I don't usually leave books unfinished. And I was kind of curious to see how outlandish it got… And it got pretty out there.

Like, science fiction out there?

No. Like voodoo out there. There's no SF in here at all.

Right. But is it supernatural?

No. Voodoo.

You lost me. So, voodoo magic? That sounds supernatural to me.

No. Just a ritual that gets carried away.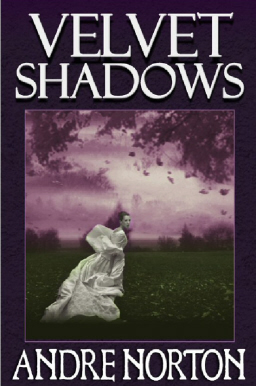 Alrighty. Would you read another Andre Norton gothic —

No.

I didn't even finish the question.

I wouldn't read another Andre Norton novel. Because of the racial stereotyping. I mean, really bad. Good thing you have all those other Andre Norton novels lying around, because I'm not going to touch them.

It was written in 1977 — well, at least, it was first published in 1977. Seriously? Like the 70s, we're talking like this? No.

Some examples?

Just the way any character who was not white was described. The way it's worded is 19th Century racist. Not 20th Century, 19th Century. All those stereotypes are there.

Where is it set?

San Francisco. Which I also found annoying.

Why is that?

Because I grew up near there.

Were the characters intriguing, at least?

No. The characters are annoying, mostly because of the racial descriptions. Any person of color was sullen, sly, over-sexualized. The usual.

What about the ending?

Irritating. The main character was annoying, and I did not really care if it ended well for her. It's not your typical romance at all.

Yeah, doesn't sound like it. You haven't even mentioned a love interest!

Well, it's Mr. Sauvage, of course. And the hired chaperone.

Gotcha. Last question. Do you expect Velvet Shadows would have worked better if it were set on an alien planet, or included space ships?

Would it have worked better as science fiction, you mean? I have no idea. But I don't think so. The racial stereotyping would have still mucked it up.
There you have it. Thanks to Unidentified Reviewer #1 for the insight into a neglected gothic classic.
Velvet Shadows was published in paperback in 1977 by Fawcett, and reprinted May 2012 in digital format. It is 238 pages; the digital version is $3.99.
Our recent Andre Norton coverage includes:
Witch World
Three Against the Witch World
Year of the Unicorn
Warlock of the Witch World
All the Covers of Galactic Derelict
Galactic Derelict
Kirkus Looks at Andre Norton's Young Adult Novels
The Last Planet
Andre Norton, Michael Moorcock and Appendix N: Advanced Readings in D&D
Star Soldiers and Other Free Kindle Books at Amazon.com
Velvet Shadows
See all of our recent Vintage Treasures here.