Black Gate Online Fiction: Seven Kings by John R. Fultz
Black Gate Online Fiction: Seven Kings by John R. Fultz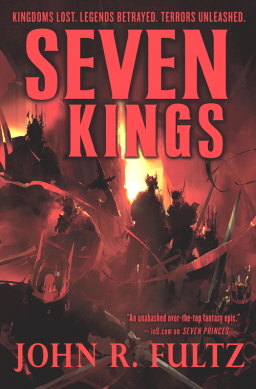 Black Gate is very pleased to offer our readers an exclusive first look at Seven Kings, the latest volume in the Books of the Shaper series from John R. Fultz, the acclaimed author of several of the most popular tales in Black Gate magazine, including "The Vintages of Dream" in BG 15, and the novel Seven Princes.
Dragging the body into the undergrowth, he exchanged his footwear as he had planned. The new boots were tight yet warm on his aching feet. He lifted the bronze helmet with its welded mask from the dead man's head and placed it on his own. Let one of their own demon faces be the last thing they see as they die. He took what else he could from the body (a few more bits of dried food) and rolled it into a stagnant pool. A viper glided through the black water and wrapped itself around the corpse. Tong caught a glimpse of himself in the surface of the water. A pale broad-chested devil with a leering face of black death, twin horns growing from his temples. His mouth was a fanged grin and his eyes were invisible behind narrow slits. He grinned beneath the mask and walked back to the trail, the bloody sabre in one hand, his knife in the other.

He stalked after them in resolute calm, ready to face the triumph of his death.
Barnes & Noble's in-house magazine Explorations called Fultz's first novel "flawless – and timeless – epic fantasy… Seven Princes is as good as it gets." On his blog, Fultz shared additional details on the new installment:
I don't want to say too much about the plot, but you will see much more of Khyrei and its poisonous crimson jungles than in the first book. Plus: More Giants…
Seven Kings will be published by Orbit on January 15, 2013. It is 496 pages in trade paperback available for $15.99 ($9.99 ePub and PDF). Learn more at the Orbit website.
Read the first chapter of Seven Kings here.