Vintage Treasures: Solomon Kane: Skulls in the Stars
Vintage Treasures: Solomon Kane: Skulls in the Stars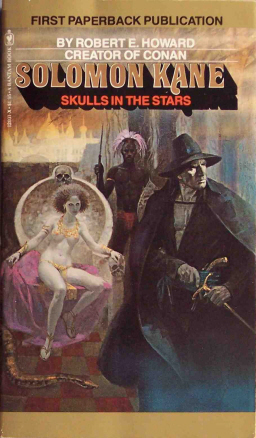 Back in October, I featured the Robert E. Howard collection Solomon Kane: The Hills of the Dead, the second of two Bantam paperbacks published in the late 70s. The first was Skulls in the Stars, released in 1978.
The Solomon Kane tales are some of my best-loved Howard fiction. "The Skull in the Stars" was one of the first Robert E. Howard tales I ever read, and for many years it was my favorite of his short stories.
He was the Puritan, who flinched not from the gates of Hell. Tall, gaunt, hollowed-eyed in his opposition to the forces of darkness, he defied the devil himself. Kane, cold, steely-nerved duelist, snatched his long rapier from its sheath and thrust it into the heart of evil. Ghoulish laughter follows him. Foul horror haunts his way. Kane, a man whose blood quickens with adventure. Kane, a man more dangerous than a famished wolf.
These slender paperbacks both have fold-out cover art (click on the image at right for the full version). The art is uncredited for this volume, but some sources claim it is Jeff Jones, and the style seems right to me. While the contents aren't pure Howard (both books contain fragments completed by Ramsey Campbell), it's a pleasure to see both the poetry and Cambell's introductions. Here's the complete TOC:
"The World of Solomon Kane" by J. Ramsey Campbell
"Skulls in the Stars"
"The Right Hand of Doom"
"Red Shadows"
"Rattle of Bones"
"The Castle of the Devil" (Completed by Ramsey Campbell)
"The Moon of Skulls"
"The One Black Stain" (poem)
"Blades of the Brotherhood"
Solomon Kane: Skulls in the Stars was published in paperback by Bantam Books in December, 1978. It is 178 pages, with a cover price of $1.95.