Star Trek Into Darkness Poster Fuels Gary Mitchell Speculation
Star Trek Into Darkness Poster Fuels Gary Mitchell Speculation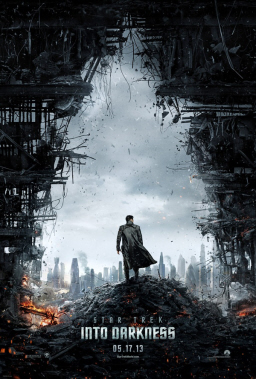 Just to review, Black Gate is a website with a laser-like focus on the best in new and neglected fantasy. If you want science fiction, there's plenty of other places for that. Except maybe for Star Trek, because that has William Shatner and we're big fans.
Now that we've cleared that up, I'd like to point you to the just-released poster for the upcoming Star Trek Into Darkness, featuring a trenchcoat-clad badass standing on a mound of rubble that used to be Federation stuff, starting at other Federation stuff he could also knock over. Just to drive home the point, his profile forms part of a crumbling Federation emblem (click the image at right for a bigger version).
That's one cool poster. It's also done absolutely nothing to dampen ongoing speculation that the villain this time is none other than Gary Mitchell, Kirk's friend and helmsman who became all glow-eyed and megalomanical after slamming into the edge of the galaxy at warp 3 in "Where No Man Has Gone Before." Neither has the film's official description:
When the crew of the Enterprise is called back home, they find an unstoppable force of terror from within their own organization has detonated the fleet and everything it stands for, leaving our world in a state of crisis. With a personal score to settle, Captain Kirk leads a manhunt to a war-zone world to capture a one man weapon of mass destruction.

As our heroes are propelled into an epic chess game of life and death, love will be challenged, friendships will be torn apart, and sacrifices must be made for the only family Kirk has left: his crew.
For the record, I think this is a great choice. "Where No Man Has Gone Before" was the second pilot and one of the show's earliest episodes, and frankly one of its best. And if the poster and teaser description are any indication, the action this time won't take place on a remote planetoid covered in giant styrofoam rocks, but a populated center where the stakes are a lot higher and the explosions a lot bigger. Finally, as reported some time ago, Sherlock actor Benedict Cumberbatch has been cast as the film's villain, and I think he'd make a magnificent Gary Mitchell, both as a jovial lieutenant commander and as an all-powerful psychic loonie.
Star Trek Into Darkness is directed by J. J. Abrams, and written by Alex Kurtzman, Damon Lindelof and Roberto Orci. It is the twelfth feature-length Star Trek film and the sequel to 2009's Star Trek. It is set for release on May 17, 2013.