Black Gate Online Fiction: The Bones of the Old Ones by Howard Andrew Jones
Black Gate Online Fiction: The Bones of the Old Ones by Howard Andrew Jones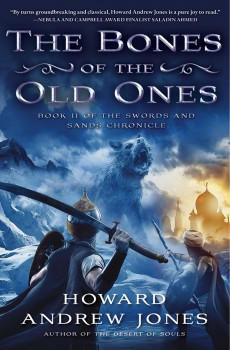 Black Gate is very pleased to offer our readers an exclusive first look at the latest Dabir and Asim novel by Howard Andrew Jones, the acclaimed author of The Desert of Souls and Pathfinder Tales: Plague of Shadows.
As a snowfall blankets 8th century Mosul, a Persian noblewoman arrives at the home of the scholar Dabir and his friend the swordsman Captain Asim. Najya has escaped from a dangerous cabal that has ensorcelled her to track down ancient magical tools of tremendous power, the bones of the old ones.

To stop the cabal and save Najya, Dabir and Asim venture into the worst winter in human memory, hunted by a shape-changing assassin. The stalwart Asim is drawn irresistibly toward the beautiful Persian even as Dabir realizes she may be far more dangerous a threat than anyone who pursues them, for her enchantment worsens with the winter. As their opposition grows, Dabir and Asim have no choice but to ally with their deadliest enemy, the treacherous Greek necromancer, Lydia. But even if they can trust one another long enough to escape their foes, it may be too late for Najya, whose soul is bound up with a vengeful spirit intent on sheathing the world in ice for a thousand years….
Howard is also the author of The Desert of Souls, Pathfinder Tales: Plague of Shadows, and the short collection The Waters of Eternity. His stories of Dabir and Asim have appeared in a variety of publications over the last ten years, and led to his invitation to join the editorial staff of Black Gate magazine in 2004, where he has served as Managing Editor ever since. He blogs regularly at the Black Gate web site and maintains a web outpost of his own at www.howardandrewjones.com.
Dabir and Asim first appeared here in "Sight of Vengeance" (from Black Gate 10), and "Whispers From the Stone," (Black Gate 12). They are some of the most popular stories to appear in our pages.
The Bones of the Old Ones is published by Thomas Dunne Books. It is a 307-page hardcover available for $25.99 ($12.99 ePub and PDF), and will be released on December 11. Learn more at Macmillan.com.
Read the first two chapters of The Bones of the Old Ones here.