Undiscovered Treasures: An Open Call for Self-Published Books
Undiscovered Treasures: An Open Call for Self-Published Books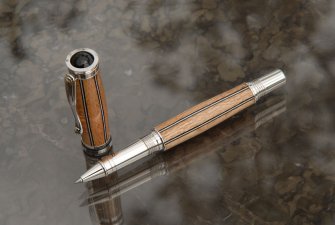 John O'Neill has been kind enough to invite me to blog more regularly here at Black Gate. This gives me the opportunity to do something I've been wanting to do for a while.
Nowadays, it's really easy to self-publish a book. However, it's very, very hard to stand out in the crowd. For every author who breaks through, there are hundreds out there who do not. While many of these self-published books are deservedly unknown, I believe that there are self-published books out there that deserve more attention than they're receiving, and I'd like to help them get it. So I'm offering to review one self-published fantasy book each month. Considering that there are hundreds or thousands published every day, I'm sure that this won't even scratch the surface. So in order to help me find out which books I should be reviewing, and to give you the best opportunity to sell yourself, I'm going to set up a submission system.

If you have a self-published fantasy book you'd like for me to review, please send me an e-mail at donald@blackgate.com, with a subject line beginning with the words "Review Request:" and then the book name.  In the body of the e-mail, please add the following information (preferably in this order):
Your name and any writing credits or pertinent biographical information
The title of your book and its approximate word count
A short blurb for the book (250 words or less)
A link to a sample chapter from the book (preferably PDF, HTML, or Kindle). If you're not able to provide a link, you can include the text of the sample chapter in the body of the e-mail or as an attached RTF or PDF.
Keep the e-mail short. Unless you need to put the sample chapter in the body, this should be no longer than 500 words, including the blurb. And only put the sample chapter in the e-mail body if you absolutely cannot link or attach it. I can't promise to be unbiased against sample chapters that are in the body of the e-mail.
I will select the book that I think looks most promising, and ask the author to send me a review copy. I prefer a Kindle-compatible format (such as mobi, or from the Kindle store), but we can probably negotiate other types.
Finally, some things to keep in mind:
I am not promising a review, even if I request a review copy (though I probably won't ask unless I'm currently planning to review it). I'm only planning to do one of these a month, so I won't be able to review everything.
I am definitely not promising a positive review. That I'm reviewing it at all means that it was good enough to get my attention (I won't review anything that's unreadable), but I intend to point out both the good and the bad.
Please follow the submission guidelines. Submissions that do not even try will be discarded without explanation.
I probably won't be responding to every submission, so don't expect to get a rejection letter from me. The good news is that this way I don't have to say no to novels I may want to review later. Please do not query to ask what I think of your novel. I'll ask for a review copy if I'm interested.
I am looking for novels (defined as 40,000 words or more), not for short stories. While I'm not setting a maximum length, I'm more likely to review shorter novels.
Since Black Gate is a magazine of adventure fantasy, I am looking for fantasy novels, not sci fi or mystery or any other genre.
By all means, list your writing credits. However, I'm not looking to help established authors plug their latest side-project. If you have a dozen pro sales or books with a major publisher, that makes me less likely to review your book, not more. And be aware, I know how to Google.
By the same token, pointing out your high Amazon sales rank and your dozens of reader reviews (especially if they're obvious gushing from friends and family) will work against you.
That I didn't choose your book to review doesn't mean that it's terrible, or even not as good as the book I did choose. It may not have attracted my eclectic taste. The reviewed book may have sold their idea better with their blurb. I may have picked more or less at random. I could even be saving your book to review later. Whatever the case, please do not take my decision not to review your book personally.
All right, I'm now accepting submissions at donald@blackgate.com.  Good luck.
---
Donald S. Crankshaw's work first appeared in Black Gate in October 2012, in the short novel "A Phoenix in Darkness." He lives online at www.donaldscrankshaw.com.