Goth Chick News: Tales of Fear: More Indy Horror Film Fun
Goth Chick News: Tales of Fear: More Indy Horror Film Fun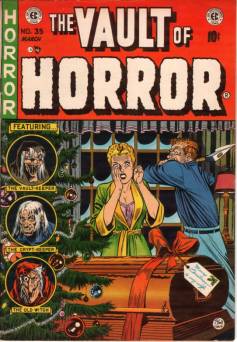 Back in the summer, we had the pleasure of getting a behind-the-scenes look at the indy sci-fi film Outpost 13 via an exclusive interview with the creators Wyatt Weed (Pirate Pictures), Billy Harzel, and Corey Logsdon (State of Mind Productions). As you know, Black Gate loves nothing better than spotting a rising talent and when that talent is producing indy horror films, we here at Goth Chick News get as excited as a pre-teen'er in an I-heart-Edward tent, camping out for the Twilight opening.
<insert high-pitched, pre-pubescent squeal here>
Well, you get the picture, even if you wish you didn't.
On November 12th, State of Mind Productions released the official trailer for its upcoming feature length horror anthology Tales of Fear. Not coincidentally, the release date was also the 30th anniversary of the theatrical release of the classic George A. Romero film Creepshow (Logsdon and Harzel are fans).
Tales of Fear is a six-part horror anthology styled after the EC comics of the 1950's. The film seeks to capture the essence of the horror elements of the comics, as well as the crime and mystery aspects that made EC's stories so popular (and occasionally controversial).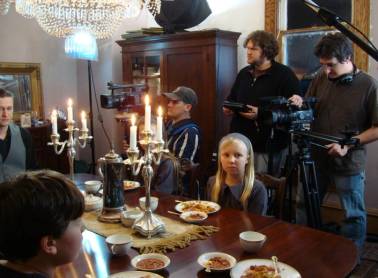 Harzel and Logsdon set out to not only capture the types of stories told in these classics, but to bring to the screen the look and style of the art and the characters that filled their pages.  The six stories told in Tales of Fear intertwine to make up a modern day interpretation of the timeless EC tales of terror.
Tales of Fear is meant to appeal to a broad range of horror audiences while capturing the edginess of EC.  The stories include a child murderer whose latest catch has him in over his head, a doctor set at discovering the secret of cellular re-animation at any cost, and the tale of a nosy woman who seems to think her neighbor may be up to more than he appears, as well as others.
Logsdon and Harzel promise their latest outing has something for everyone who loves the horror genre.
Oh yummy.
Tales of Fear is set for release in the summer of 2013:  Billy Harzel and Corey Logsdon will be on a promotional tour with the film at film festivals and horror conventions during that time, but stay tuned here because you know we're going to harass them until we get every gory detail.
In the meantime, enjoy the trailer.
A side note for you EC comic fans: John Landis is currently in production on a movie about EC Comics publisher and co-creator Bill Gaines, who was driven out of the comic book business by 1950s morality police after his unapologetic testimony before a U.S. Senate subcommittee investigating juvenile delinquency.
Gaines retaliated by converting one of his titles Mad into a satirical magazine which specialized in skewering all aspects of uptight society. Joel Eisenberg has written the screenplay for Ghoulishly Yours, William M Gaines.  The movie is set for an undetermined 2013 release.
Were you a fan of Creepshow or horror comics in general?  Post a comment or drop a line to sue@blackgate.com.