Vintage Treasures: The Power of Darkness — Tales of Terror, by Edith Nesbit
Vintage Treasures: The Power of Darkness — Tales of Terror, by Edith Nesbit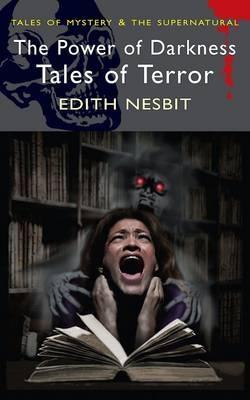 Yes, we're talking here about Edith Nesbit, godmother of British fantasy and beloved author of The Enchanted Castle, Five Children and It, The Phoenix and the Carpet, and many others children's classics. This is not some other Edith Nesbit. Right there on the back of my copy of the Wordsworth Edition paperback of The Power of Darkness — Tales of Terror are the words:
Edith Nesbit, best known as the author of The Railway Children and other children's classics, was also the mistress of the ghost story and tales of terror.
Who knew? Not me. I thought it was scandalous when JK Rowling wrote a book with sex in it, but that's nothing compared to the head-twisting British schoolkids must have received opening their copy of The Power of Darkness — Tales of Terror.
And what's with the two titles? It's like she couldn't decide what to call it. "The Power of Darkness or Tales of Terror? Bloody Hell, I'll call it both." You tell 'em, Edith!
As an unanticipated side-effect of my gross ignorance of early 20th Century supernatural short fiction, I am surprised and delighted by this addition to the Wordsworth Tales of Mystery And The Supernatural imprint (or, as we like to call it, TOMAToS). But the rest of the line has been extremely impressive, so I'm willing to believe they're not just pulling my leg with this one. Here's the rest of the back cover copy, just to prove I'm not making this up:
'The figure of my wife came in… it came straight towards the bed… its wide eyes were open and looked at me with love unspeakable.'

Edith Nesbit was able to create genuinely chilling narratives in which the returning dead feature strongly. Sadly, these stories have been neglected for many years, but now, at last, they are back in print. In this wonderful collection of eerie, flesh-creeping yarns, we encounter love that transcends the grave, reanimated corpses, vampiric vines, vengeful ghosts and other dark delights to make you feel fearful. These vintage spooky stories, tinged with horror, are told in a bold, forthright manner that makes them seem as fresh and unsettling as today's headlines.
Vampiric vines! I'm putting this one right at the top of my to-be-read pile.
This was the first of the Tales of Mystery And The Supernatural I've highlighted in Vintage Treasures, but it wasn't the last. Dozens of authors are featured in this excellent series, from William Hope Hodgson to Elizabeth Gaskell to Robert E. Howard, and the books are smartly packaged and inexpensive. It's a great way to assemble a library of classic English fantasy and horror.
We've covered ten volumes in the Wordsworth Tales of Mystery And The Supernatural series so far:
The Crimson Blind and Other Stories by H.D. Everett
Couching at the Door by D.K. Broster
The Casebook of Carnacki The Ghost Finder by William Hope Hodgson
The Beast with Five Fingers by W.F. Harvey
The Power of Darkness — Tales of Terror, by Edith Nesbit
Alice and Claude Askew's Aylmer Vance, The Ghost-Seer
The Black Veil & Other Tales of Supernatural Sleuths edited by Mark Valentine
Voodoo Tales: The Ghost Stories of Henry S. Whitehead
Sherlock Holmes: The Game's Afoot, edited by David Stuart Davies
The Casebook of Sexton Blake, edited by David Stuart Davies
The Power of Darkness — Tales of Terror by Edith Nesbit, edited and with an introduction by David Stuart Davies, was published by Wordsworth Editions in 2006. It is 255 pages in paperback, priced at $6.99. There is no digital edition, and really, I think a digital edition of a ghost story book kinda defeats the point anyway.