Black Gate Online Fiction: "Godmother Lizard" by C.S.E. Cooney
Black Gate Online Fiction: "Godmother Lizard" by C.S.E. Cooney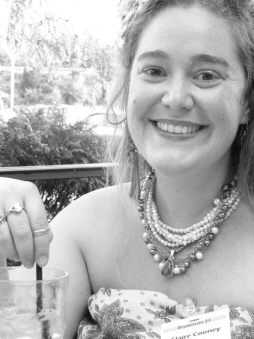 A young woman makes a dangerous journey across a fantastic desert landscape in a desperate attempt to save her childhood friend:
He heaped down beside me on the sharps of his knees and stared into the murky slime of the pool. "Do you have another lace?"

I felt him there beside me, all along my right side, every thin bone of him. Whenever he twitched, I expected him to rattle like verdy branches. I untied my other sandal and handed over the lace.

"I'm Ro," I told him.

"Jaks." He nodded at me. "Your parents are dead?"

"Pretty much dead, yeah," I agreed. "Buried down in Paupers' Grave on the corner of B'ihbrid and Nilzi. I live with Great Aunt Irlingard who hates me."

"I live with my father and sisters," he said, "in my Mother's house."

After a pause, he added, "My Mother is eating my father. Very slowly."
C.S.E. Cooney's fiction has been reprinted in Rich Horton's Year's Best Science Fiction and Fantasy (2011 and 2012 editions). Her poems and short stories have appeared in Clockwork Phoenix 3, Apex, Subterranean, Strange Horizons, Podcastle, Pseudopod, Ideomancer, Goblin Fruit, and Mythic Delirium. Her collection How to Flirt in Faerieland and Other Wild Rhymes was released by Papaveria Press in May, and her fairytale-with-teeth novella, Jack o' the Hills, was published by Papaveria in January. She was the recipient of the Rhysling Award in 2011 for "The Sea King's Second Bride."
You can see the complete catalog of Black Gate Online Fiction, including stories by Donald S. Crankshaw, Aaron Bradford Starr, Sean McLachlan, Harry Connolly, and Jason E. Thummel, here.
"Godmother Lizard" is a complete 16,000-word novella of weird fantasy offered at no cost.
Read the complete story here.