National Novel Writing Month: A Five-Year Veteran's View
National Novel Writing Month: A Five-Year Veteran's View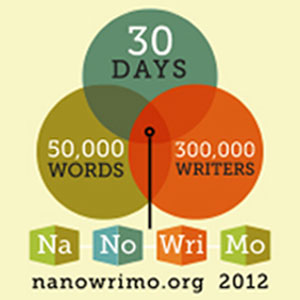 November is almost here, which means for tens of thousands of people spanning the globe the time has come to crunch numbers over thirty days to maximize their ability to write at least fifty thousands words of a novel. It is called National Novel Writing Month (NaNoWriMo), and by this point most of you with any connection to the world of books — whether writing, reading, wholesaling, or propping up the couch — have heard of this social creative writing event. In fact, I expect "NaNoWriMo" and "WriMos" to enter the Oxford American Dictionary within a few years.
Three years ago, I wrote a lengthy post explaining NaNoWriMo and why I started doing it; if you want a longer explanation from a participant about what the month entails, check out that hoary article. Or you can look at the official site. Last year, I again offered my evolving thoughts on NaNoWriMo.
This is my fifth year participating, and although the event started in 1999, a five-year vet such as myself is a rarity. The first time I did NaNo, the Los Angeles TGIO Party ("Thank the Gods It's Over") managed to pack all the attendees around a single table in the Cat and Fiddle pub in Hollywood. Half a decade later, the Kick-Off party for Los Angeles jammed wall to wall half of an El Cholo restaurant in Pasadena, standing-room only, with raffles for sponsored gifts and two professional writing gurus in attendance. The growth of the event over half a decade has been enormous, with at least four times as many participants as when I started, and that's my conservative estimate.
As NaNoWriMo has changed, so has my relationship with it: my feelings about its public face, and how it become more globalized and systematized while losing some of its "handmade" origins. It's natural that I would start to develop more cynical opinions about the event, but then I acknowledge that some of this comes from how much I've changed as an author since 2008 — and that NaNoWriMo played a big part in making those changes.
When I joined NaNoWriMo in 2008, I was in a stagnant state as a novelist. I completed my first novel in 2000 (during November, meaning I participated in the second NaNoWriMo without realizing it), and then followed it up with a few books each year until 2006, when I dried up. The ideas weren't gone, but I got hooked on the drug of regular paycheck at a life-sucking day job and lost in the "ah what's the use?" Sargasso Sea too many authors encounter. My writing gears turned rusty and groaned to a stop. Then I stumbled upon the official book about National Novel Writing Month, No Plot? No Problem! by Chris Baty, and taking part NaNoWri '08 rescued my writing. The book I wrote that first November isn't one of my finer accomplishment (I never took it to a complete second draft), but finishing a new novel re-energized me, and my writing has been steady ever since — not to mention much better because of the steady work. The novel I wrote the next year changed my life, and the year after that I won the Writers of the Future Award and started getting published professionally. NaNoWriMo played a role in getting me there.
However, as I became a more productive writer with different goals (aside from just "get something finished, dammit!"), NaNoWriMo's importance started to diminish. I was writing year-round, every day, so the arrival of November 1st no longer arrived with a triumphant fanfare. Many NaNoWriMo participants ("WriMos" henceforth; see revised Oxford American Dictionary 2015) schedule writing a novel to fit into the November time frame. I was now writing my books and stories whenever they were ready to go. The third year I did NaNo, I became a "rebel," the name for WriMos who don't follow the "write 50k of a new novel starting on the first of November" structure. That year I chose instead to increase my well of short stories and aimed to write 50,000 words worth of shorter fiction instead. (I succeeded; it was far tougher than doing a single novel, I discovered.) Last year, I used November to re-start and finish work on a book I foolishly stopped writing in mid-April. Goal achieved as well. National Novel Writing Month had turned into a tool to get done whatever I needed done at the time — and go to a few parties to meet other writers. The original rush was gone, and NaNoWriMo was now a piece of the larger map of my writing year.
Getting some distance from the event caused me to develop some issues with it. The Office of Letters and Light (OLL), the San Francisco-based office that operates NaNoWriMo, sometimes encourages practices in the name of "get it done!" that I think can impede some beginning writers. "We challenge you to put [random thing] into your novel!" Yeah, that's cute, slamming in a monkey or a ninja into your plot, but what about trying to put in something surprising that fits in with your book? The OLL superficially supports both outlining and "seat-of-the-pants," but they really don't emphasize enough how much new writers might benefit from outlining and thinking out their ideas first. The reason I think many newcomers to NaNoWriMo often fail to reach the 50,000 word goal is that they walk into it thinking that haphazardly hurling ideas at the page is the only way to do it. It may work for some, but I hold that beginners in particular should seek the aid of outlines. They may find in their later books that they don't require one, but the chance of finishing that first book — and therefore feeling like a success — is higher with even a single-page outline of their ideas to use as reference. (As David Drake told me: "Every day you wake up and you have something specific to do.") I think the OLL should back off from the irreverent and silly approach they use in their official videos and pep-talk emails and instead offer a variety of ideas for the different kind of writers out there. (Their current video, "Donate Maybe," is the one-millionth parody of "Call Me Maybe." Come on, that stuff doesn't even play in the Catskills any more.)
And, despite the title No Plot? No Problem! of the official NaNoWriMo self-help book, sometimes not having a plot is a problem. Depends on what kind of writer you are.
Most importantly: NaNoWriMo is not for every writer. The event's popularity fosters a belief that the fast-writing method is the only method to get a book done. It works for me (and it was how I wrote before I participated for the first time), and for a newcomer who has never before written a book, short time period and pressure of a deadline is a good way to get the novel convoy on the road. But some writers work in a slower fashion, revising as they go along. Others shift around on projects. WriMos should find a method that works for them, and if that method isn't putting down 50,000 new words of a book within thirty days, they should feel fine abandoning it.
I still support NaNoWriMo in general, despite these issues, because I believe in writing as therapy, especially in a world that exponentially shortens the human attention span on a monthly basis. In the overly wired social network universe, the very act of sitting down to write a long story seems rebellious, almost dangerous. No matter what complex tools people use to write their daily allotment of words — whether it be longhand on yellow legal pads (I met people at the party last night who plan to do exactly that), on a laptop, on a tablet, dictated to voice-recognition program, or on a manual typewriter (the "Typewriter Brigade" they call themselves on the forum) — they are taking part in a tradition predating any form of electronics: the art of telling a story using the written word. For people terrified of trying to write, but who feel the urge to create, completing 50,000 words of a book in a month is a monumental feat. No matter what they intend to do with that work (the majority of WriMos are hobbyists without professional aims), getting it done is an amazing achievement of self-expression and self-validation.
Not only is writing therapeutic, but NaNoWriMo alleviates one of its most arduous aspects: solitude. The "write-ins" and various parties held around the globe and planned through the NaNoWriMo website, as well as the busy forums where people can share success stories and vent frustrations and commiserate with others going through similar troubles, broaden a writer's world and make novel-writing something social. Depression afflicts many creative people, and WriMo participants are often individuals with social handicaps; the link to the global world of other authors trying the same feat is a reminder that they are not alone.
So although I gripe a bit at NaNoWriMo's flaws, ultimately it has done marvels for thousands and thousands of people around the world. I use NaNoWriMo for what I need now, and ignore the rest, but I would not have improved as a writer or gotten my career on its current path without it.
---
Ryan Harvey is a veteran blogger for Black Gate and an award-winning science-fiction and fantasy author. He received the Writers of the Future Award in 2011 for his short story "An Acolyte of Black Spires," and has two stories forthcoming in Black Gate, as well as a currently available e-book in the same setting. He also knows Godzilla personally. You can keep up with him at his website, www.RyanHarveyWriter.com, and follow him on Twitter.