Arnold Schwarzenegger Signs on to Return as Conan in The Legend Of Conan
Arnold Schwarzenegger Signs on to Return as Conan in The Legend Of Conan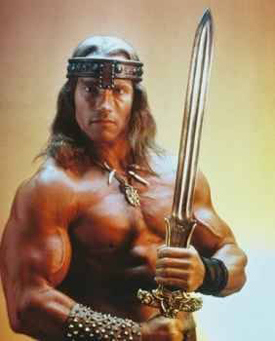 Well, this is a day I never thought I'd see.
Deadline is reporting that ex-Governor of California, Arnold Schwarzenegger, has signed on to appear in a fourth Conan film, set for release Summer 2014 from Universal Pictures. It will be produced by Fredrik Malmberg, CEO of Paradox Entertainment (which controls the Conan property), and writer and producer Chris Morgan (The Fast And The Furious, Wanted). Morgan is credited with the screen story and may write the script; Deadline describes this as a "dream project" for the producer.
Schwarzenegger released this comment to the press yesterday:
I always loved the Conan character and I'm honored to be asked to step into the role once again. I can't wait to work with Universal and the great team of Fredrik Malmberg and Chris Morgan to develop the next step of this truly epic story.
Schwarzenegger appeared in Conan the Barbarian (1982) and the truly terrible Conan the Destroyer (1984). Games of Thrones star Jason Momoa took a turn as Robert E. Howard's barbarian in last year's Conan the Barbarian, one of the biggest bombs of the year.
Few details about the new version have been released, but one imagines the 65-year old Schwarzenegger will approach this one a little differently.
Malmberg provides some insight:
The original ended with Arnold on the throne as a seasoned warrior, and this is the take of the film we will make… It's that Nordic Viking mythic guy who has played the role of king, warrior, soldier and mercenary, and who has bedded more women than anyone, nearing the last cycle of his life. He knows he'll be going to Valhalla, and wants to go out with a good battle.
Nordic? Viking? That didn't give me a lot of confidence that much of Robert E. Howard would survive the translation, but Morgan made me feel a little better with this quote:
After the original seminal movie, all that came after looked silly to me… Robert E. Howard's mythology and some great philosophy from Nietzsche to Atilla the Hun was layered in the original film… This movie picks up Conan where Arnold is now in his life, and we will be able to use the fact that he has aged in this story. I love the property of Conan so much that I wouldn't touch it unless we came up with something worthy… Think of this as Conan's Unforgiven.
Conan's Unforgiven? That's intriguing, at least. And I'm relieved to hear they'll be ignoring everything except the first film.
Schwarzenegger is certainly keeping busy — he recently appeared in The Expendables 2 and will be in the upcoming The Last Stand. He is currently filming David Ayer's Ten, and will also star in Sylvester Stallone's The Tomb, to be released next year.