Cover Your Naked Books, Please
Cover Your Naked Books, Please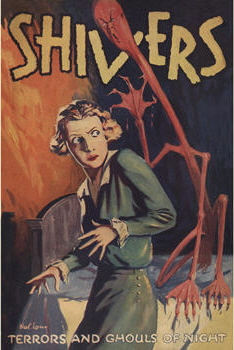 On Tuesday, I mentioned a few of the vintage anthologies I bought from the collection of Martin Harry Greenberg at the Windy City Pulp & Paper Show. I've been enjoying them quite a bit, and I certainly couldn't argue with the price.
However, most of them were coverless. Maybe Greenberg used those beautiful old dust jackets to wrap Christmas presents, I dunno. Anyway, they look a little odd that way on my shelves.
But we live in the era of the Internet, when you can find anything you want from the comfort of your couch, so I figured I could find a cover for the 1949 Merlin Press edition of From Off This World, maybe. As enjoyable as that book is, it would look a lot better with that Virgil Finlay wraparound cover. I'm not asking much — just a brand new dust jacket for an obscure 60-year old hardcover from a forgotten publisher. Give it up, Internet.
And you know what? I found one.
Facsimile Dust Jackets LLC sells over 7,700 high-quality reproductions of dust jackets for rare and collectable books. Mark Terry, the mad genius behind the company, tells us it is the sole funding for his "Dust Jacket Archive Project." He's traveled all over North America, Europe, the United Kingdom, Australia, New Zealand, Bahamas and Jamaica, scanning collections and accumulating over 50,000 jackets. Nice work if you can get it.
Just browsing through his online catalog is fascinating. His SciFi/Fantasy/Supernatural category includes over 800 vintage covers from Gnome Press, Arkham House, Doubleday, and many other publishers. I immediately fell in love with the cover to Shivers, a 1932 British anthology in the Creeps series, from Philip Allan & Co. Just look at the skinny stick dude menacing that plucky young English lass. You know something untoward is in the wind, and no mistake.
The facsimiles are a little pricey (averaging around $22), but I've seen much worse in the collector's market. I'm tempted to buy a handful, to dress up my coverless books and even replace some of the more tattered dust jackets in my collection. And I think I'll buy a facsimile dust jacket for Shivers, too. I don't have a copy of Shivers, but I'm willing to grab a random hardcover, throw away the jacket, and put this one on it. Because, damn.
Facsimile Dust Jackets LLC operates out of San Francisco. Their website is here.