Vintage Treasures: World of Wonder, edited by Fletcher Pratt
Vintage Treasures: World of Wonder, edited by Fletcher Pratt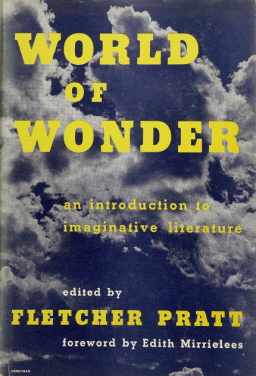 I'm gradually making my way, with considerable delight, through the vintage science fiction and fantasy anthologies I bought for a few bucks from the collection of Martin H. Greenberg.
I've already covered From Off This World (1949) and The Giant Anthology of Science Fiction (1954), both edited by Leo Margulies and Oscar J. Friend. This week, I've been fondling Fletcher Pratt's 1951 World of Wonder, subtitled An Introduction to Imaginative Literature.
Pratt, author of The Well of the Unicorn and The Blue Star, was already a noted fantasy author in his own right by 1951. The science fiction anthology was still a relatively new beast, but the handful that had been published at that point had been generally well received.
Nonetheless, Pratt felt it necessary to grouse about lack of respect in his lengthy introduction:
Now let us not kid ourselves. The stories in this book are fiction, they are literature, whatever definition one chooses to give to those often-disputed terms. A good many people tend to look down on science fiction and fantasy (there is no word that really covers both exactly) because the bulk of it has appeared in magazines with garish covers. They forget that the color of the skin is no guarantee of the flavor of the apple.
Like many books in Greenberg's collection — especially the vintage anthologies — this one had notes scrawled in the margins, the most prominent being "Fantastic — use. Conflict resolution?" beside H. Beam Piper's "Operation RSVP." Greenberg reprinted "Operation RSVP" in Amazing Science Fiction Anthology: The Wild Years 1946-1955 (which I discussed back in June.)
This was Pratt's sole anthology. I have no idea if it sold well, although I do know it received some criticism at the time for including a few famous stories that had previously been collected, such as Ray Bradbury's "The Million-Year Picnic," Robert A. Heinlein's "They," and even "Metamorphosis," by Franz Kafka.
World of Wonder has never been issued in paperback, or reprinted in any format as far as I know. That may have been incompetence or simple sloth on the part of the publisher, Twayne (who?), but there isn't a great deal of evidence that the book was a success. In any event, if you're interested in a copy, this is the sole edition. Used copies start at around 18 bucks on Amazon.
Here's the complete table of contents, and the date of original publication.
Foreword by Edith R. Mirrielees
Introduction: The Nature of Imaginative Literature, Fletcher Pratt
"He Walked Around the Horses," H. Beam Piper (Astounding 1948)
"Roads of Destiny," O. Henry (Roads of Destiny 1909)
"The Red Queen's Race," Isaac Asimov (Astounding 1949)
"Child's Play," William Tenn (Astounding 1947)
"The Finest Story in the World," Rudyard Kipling (Contemporary Review 1891)
"Etaoin Shrdlu," Fredric Brown (Unknown 1942)
"Mistake Inside," James Blish (Startling Stories 1948)
"Private — Keep Out!" Philip MacDonald (F&SF 1949)
"They," Robert A. Heinlein (Unknown 1941)
Metamorphosis, Franz Kafka (1937)
"Back There in the Grass," Gouverneur Morris (Collier's Weekly 1911)
"The Mark of the Beast," Rudyard Kipling (The Pioneer 1890)
"Museum Piece," Esther Carlson (Moon Over the Back Fence 1947)
"The Blue Giraffe," L. Sprague de Camp (Astounding 1939)
"That Only a Mother," Judith Merril (Astounding 1948)
"Operation RSVP," H. Beam Piper (Amazing 1951)
"Conquerors' Isle," Nelson S. Bond (Blue Book 1946)
"Giant Killer,"A. Bertram Chandler (Astounding 1945)
"The Million-Year Picnic," Ray Bradbury (Planet Stories 1946 )
World of Wonder was published in hardcover by Twayne in 1951. It is 445 pages.