The Paris Fashion Week of Fantasy Games
The Paris Fashion Week of Fantasy Games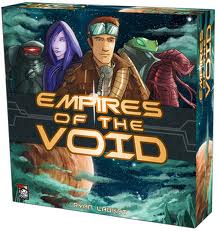 Six months ago, I attended the Spring Games Auction at Games Plus in Mount Prospect, Illinois, the premiere auction in the country for serious game collectors. Last Friday, I was checking the calendar. They occur every six months, which meant the next one was… holy cats! Saturday morning. I packed up my rental car the next morning and headed out, after making a blood oath to my wife Alice that I would be fiscally responsible this year. Or at least act within the bounds of forgiveness, I told myself.
The auction did not disappoint. The Saturday auction focuses on science fiction and fantasy board games, as well as role-playing games of all kinds. They start promptly at 10:00 am and run for the next seven hours, rattling off about ten games per minute; hundreds every hour, and thousands over the course of the day. For me, it's the Paris Fashion Week of games — my chance to see all the latest and greatest in new games without having to leave the comfort of my metal folding chair.
Just as last time, the real wonders weren't dusty artifacts from the early days of gaming, but a panorama of gorgeous and enticing new titles. And again, my knowledge of modern science fiction and fantasy gaming proved woefully inadequate, as time after time, games I'd never seen before made their way to the auction block.
Now, it's dangerous to be ignorant at an auction. It's easy to overbid on an item that looks expensive and rare, only to find Amazon has it on clearance for ten bucks. It's even easier to drop out of the bidding when the going gets tough, confident you can find it cheaper online — only to find copies commanding outrageous prices on eBay. I've done both, and while most collectors agree that the greater pain is the memory of that rare item that got away, that's because they haven't met Alice and her corrective-therapy broomstick of agony.
So I played it safe this time. I watched a lot of marvelous games go to other bidders, jotting down the titles as they did. I gave up on a used copy of Fantasy Flight Games' Sky Traders, a game of intrigue and trading in an era of skyships, when bidding shot past $27; it's in stock at Amazon for $35. Same with Guards! Guards!, a fabulous-looking Discworld game from Z-Man Games, which sold for $40 (new for $57 online), and — perhaps the hardest to let go — a magnificent space combat game based on David Weber's bestselling series, Honor Harrington: Saganami Island Tactical Simulator, which the fellow next to me bought for $40 (cheapest copy I can find online is $75). And plenty of others, including Zombietown, Dark Minions, Peregrine Games' Prince of Chaos, and the curious Gnomes of Zavandor.
Later this week, I'll talk about those items I did bring home, including Empires of the Void, a terrific-looking space exploration game from Red Raven Games. That post will be much more cheerful, I promise.