Weird Tales 360 Arrives This Week
Weird Tales 360 Arrives This Week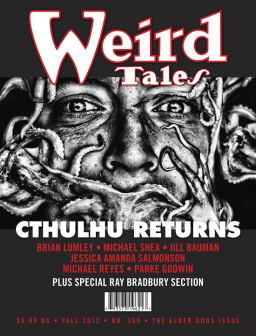 Weird Tales 360,  the first issue helmed by new editor Marvin Kaye, is scheduled to ship this Friday, October 19.
It's an auspicious and entirely appropriate number, I think. After changing direction several times over the last few years, Weird Tales has now turned 360-degrees and returned to where it started: publishing classic weird fiction.
The theme of the first Kaye issue is "The Elder Gods," and the table of contents makes it clear that he is whole-heartedly embracing the Lovecraftian fiction that helped make Weird Tales one of the most sought-after magazines of the pulp era:
FICTION: THE ELDER GODS
"The Long Last Night" by Brian Lumley
"Momma Durtt" by Michael Shea
"The Darkness at Table Rock Road" by Michael Reyes
"The Runners Beyond the Wall" by Darrell Schweitzer
"Drain" by Matthew Jackson
"The Thing in the Cellar" by William Blake-Smith
"Found in a Bus Shelter at 3:00 am, Under a Mostly Empty Sky" by Stephen Gracia
FICTION: UNTHEMED
"To Be a Star" by Parke Godwin
"The Empty City" by Jessica Amanda Salmonson
"Abbey at the Edge of the Earth" by Collin B. Greenwood
"Alien Abduction" by M. A. Brines
POETRY
"Mummified" by Jill Bauman
"In Shadowy Innsmouth" by Darrell Schweitzer
"The Country of Fear" by Russell Brickey
"Country Midnight" by Carole Buggé
DEPARTMENTS
The Eyrie
The Den
Lost in Lovecraft
SPECIAL RAY BRADBURY SECTION
"The Exiles (Original Version)" by Ray Bradbury
"My New Ending to Rosemary's Baby" by Ray Bradbury
"Personal Memories of Ray Bradbury" by Marvin Kaye
Review of "Shadow Show: All-New Stories in Celebration of Ray Bradbury" by James Aquilone
"Remembrance" by Ray Bradbury
Weird Tales 360 is $6.99 for the double-sized, 111-page print edition, $7.95 in PDF, and just $2.99 for the Kindle or e-pub editions. It is cover-dated Fall 2012, and has a special back cover dedicated to Ray Bradbury. The art for the front cover is by Danielle Tunstall; back cover artist is David Hartman. Read the complete details and order copies at the Weird Tales website.
We last covered Weird Tales with issue 359.