Galaxy Science Fiction, October 1950: A Retro-Review
Galaxy Science Fiction, October 1950: A Retro-Review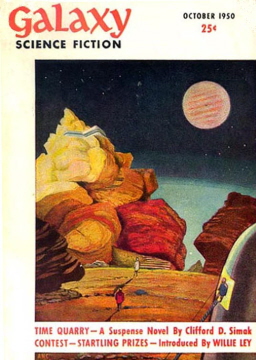 Continuing in my discovery of Galaxy magazine, I began reading the first issue, dated October 1950. I knew what I'd never see in Galaxy, and but what fiction would I discover within?
"Time Quarry" by Clifford D. Simak is the first of a three-part serial. I don't see this done often with modern magazines, but it seems like back in the Fifties, novel serializations were part of the norm. I wonder how the rights and payment worked out for that, but I digress.
In Part 1, Asher Sutton returns to Earth after disappearing for twenty years on a space exploration mission to 61 Cygni. Little is known of the planet he landed on; no other ship can get near it due to unexplained anomalies. Since his return, Sutton has drawn attention, both from those who want information and those who want him dead.
"Third From the Sun" by Richard Matheson – A family plans to escape from a world on the brink of war. All they need to do is to take a spaceship for themselves and leave everyone but their closest neighbors behind.
Third From the Sun became the title of Matheson's first paperback short story collection, published by Bantam Books in 1955.
"The Stars are the Styx" by Theodore Sturgeon – Mankind has the tools for creating vast inter-galactic travel, but it will take 6,000 years to set up the framework. Volunteers are sent (usually as married pairs) out to distant points within the galaxy, and when all are in place, they will create a connected network for instant transportation to each location.
Each person's choice to go out or return to Earth is made at Curbstone, an Earth satellite run by a man sometimes referred to as Charon. Of the latest arrivals, Charon takes interest in Judson, a young man who seems certain to become Outbounder, provided he doesn't get too distracted by those who are still undecided.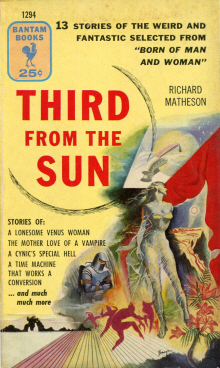 This was my favorite of the issue; great character development mixed with fascinating technology.
And just as with Matheson's story, The Stars are the Styx eventually became the title of a Sturgeon collection — in this case his fifteenth, published by Bluejay Books in 1979.
"Later Than You Think" by Fritz Leiber – An archaeologist and an explorer discuss the archeologist's latest find, revealing a long-extinct civilization. To reveal more than this would ruin the tale.
"Contagion" by Katherine MacLean – Colonists arrive on the planet Minos and discover other humans inhabit it. The first explorers meet Pat Mead, a third-generation inhabitant; his ancestors were a small group of colonists who managed to survive a gruesome plague known as melting sickness.
The explorers take Pat back to their ship of colonists, taking precautions to test the native for illnesses in advance. Unfortunately, their safeguards fail, and the male colonists all become infected with the melting sickness.
Only by studying Pat can they hope to concoct a solution for the plague before it kills them, but time is short.
"The Last Martian" by Fredric Brown – A bartender calls the newspaper editor about an odd patron – a man claiming to be the last Martian. The editor sends one of his writers, Bill, to see if there's a gag story in it.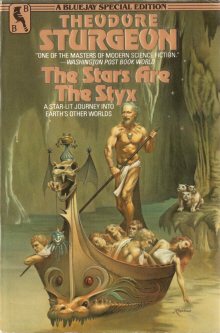 What Bill discovers is a man claiming he has two distinct memories – those of his Earth self and those of a Martian who doesn't understand how his conscious melded with the human to begin with. Rather than pursuing a story, Bill tries to help the man/Martian come to terms with his life.
"Darwinian Pool Room" by Isaac Asimov – A group of scientists uses their lunch hour to discuss evolution, God, and the future through the analogy of a game of pool.
I've never read anything by Asimov before, and I was disappointed that this was simply an exercise of analogy rather than a story. But I think that at this point in time, Asimov was gaining enough momentum in popularity that he could have sold his grocery list for publication.
Click on any of the images in this article for larger versions.
You can find retro-reviews of the May 1952 issue of Galaxy Science Fiction here, and the December 1965 issue here.