Goth Chick News: Harry Potter Gets Horny
Goth Chick News: Harry Potter Gets Horny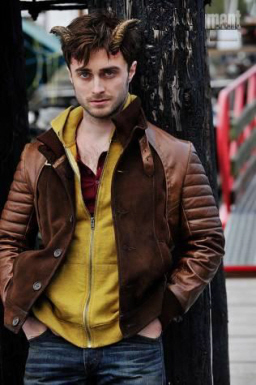 It was bound to happen eventually.
This week as I perused the backlog of seasonal goodies that find their way to my in-box every October, I opened one that made me feel a whole bunch of things at once; some of them very "adult." It was about little Daniel Radcliffe's latest movie project which just happens to be in the horror vein.
You all remember Daniel, right? He played the adorable, tussle-haired boy wizard in the Harry Potter franchise, though admittedly he did grow up somewhat by the last couple of films. Still, in the round glasses and brandishing a wand and all, it was difficult to see him as completely grown up.
From there, he daringly went nude on the stage in London and New York, playing the mentally-disturbed, decidedly grown-up role of Alan Strang in Equus. But there again, the character is only 17 years old and sick in the head enough to mutilate six horses.
Clearly not sexy.
Then most recently we saw Daniel in the very creepy, Victorian fright fest The Woman in Black. Yes, he played a bereaved lawyer with a child of his own; but trussed up in that white collar under about four layers of worsted British wool he somehow still evoked a character in a fantasy setting, albeit a spine-chilling one.
And now we come to the announcement of his latest venture.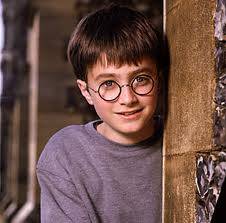 Daniel Radcliffe has been cast in the adaptation of Joe Hill's New York Times best-seller Horns. Alexandre Aja (The Hills Have Eyes) will direct the film that centers on Ig Perrish (Radcliffe), the prime suspect in the violent rape and murder of his girlfriend. Perrish awakens one day with a hangover and horns growing out of his head. More strange: The horns have the power to get people to confess their sins — which should help him find the real killer.
Per the press release,
This rock and roll infused dark fantasy explores why bad things happen to good people, and what the loss of true love can do to a man.
October 2nd marked the first time Radcliffe settled into a Vancouver makeup chair for several hours of prosthetics application. Red Granite Pictures and Mandalay Pictures produce the film, which began shooting this fall and has an unspecified 2013 release date.
Author Joe Hill is the evil genius behind Heart Shaped Box, one of my all-time favorite books. When I first saw Radcliffe's name associated with Hill's, I was momentarily overjoyed at the thought that Heart Shaped Box the movie had finally found its way out of development hell, where it has been languishing since 2007.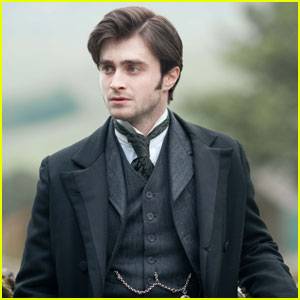 Sadly this is not the case, though I'm sure a great box-office showing from Horns could shake it loose.
Radcliffe describes his new role as "deeply emotional and also incredibly outrageous in some ways."
How outrageous? Well, let's just say the 11-year-old Daniel Radcliffe we met in Harry Potter is nowhere to be found. Says Radcliffe,
It's a very, very different type of part than anything I've done before. To play somebody who, in the midst of a time in his life of great turmoil anyway, undergoes this horrific transformation into a devil character — it was very, very exciting.
For us too Daniel, for us too…