Mystery 101: Books To Die For is a Complete Course in Mystery Fiction
Mystery 101: Books To Die For is a Complete Course in Mystery Fiction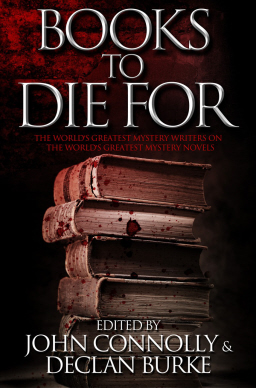 I don't read much mystery fiction, and if I'm honest with myself it's because I feel a little lost in the mystery section of the bookstore. I don't know the authors or the major titles, and there are just so many choices it's overwhelming. Safer to take my money and retreat back to the science fiction aisle, and buy that Asimov reprint.
But if I were a little more adventurous, or had a knowledgeable friend to hold my hand, I bet I'd find a lot of great reading in those shelves. There's always a ton of old ladies buying mystery paperbacks, anyway. And if there's a more discerning paperback reader than the American old lady, I haven't met her.
It's very possible that knowledgeable friend arrived in the mail this week, in the form of Books to Die For: The World's Greatest Mystery Writers on the World's Greatest Mystery Novels, a fabulous book that looks like it could open the door to a lifetime of mystery reading.
With so many mystery novels to choose among, and so many new titles appearing each year, where should a reader start? What are the classics of the genre? Which are the hidden gems?

In the most ambitious anthology of its kind yet attempted, the world's leading mystery writers have come together to champion the greatest mystery novels ever written. In a series of personal essays that often reveal as much about the authors and their own work as they do about the books that they love, 119 authors from 20 countries have created a guide that will be indispensable for generations of readers and writers. From Agatha Christie to Lee Child, from Edgar Allan Poe to P. D. James, from Sherlock Holmes to Hannibal Lecter and Philip Marlowe to Lord Peter Wimsey, Books to Die For brings together the cream of the mystery world for a feast of reading pleasure, a treasure trove for those new to the genre and for those who believe that there is nothing new left to discover.
Even if you're not in the mood for a mystery novel marathon, Books To Die For is perfectly suited for browsing, with brief personal essays from the world's most illustrious mystery writers, chatting about the finest mystery novels ever written. The book is arranged chronologically, starting in 1841 with Edgar Allan Poe's The Dupin Tales; the second entry is Charles Dickens' Bleak House (covered by Sara Paretsky). The last one is The Perk, by Mark Gimenez, published in 2008.
In between are 118 enthusiastic mini book reviews, most averaging two to four pages, by writers including Rita May Brown, Linda Barnes, Carol O'Connell, Chuck Hogan, Joseph Finder, Charlaine Harris, Joe R. Lansdale, Laura Lippman, Max Allan Collins, Phil Rickman, Bill Pronzini, Jeffery Deaver, F. Paul Wilson, John Connolly, Joseph Wambaugh, Elmore Leonard, Eoin Colfer, Anne Perry, and many, many others.
Books To Die For is edited by John Connolly and Declan Burke; it was published by Atria on October 2. It is 560 pages in hardcover, and priced at $29.99. The digital edition is $14.99.