Vintage Treasures: Hong on the Range by William F. Wu
Vintage Treasures: Hong on the Range by William F. Wu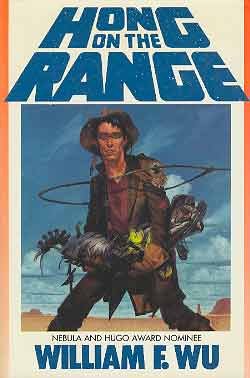 I admit this one doesn't seem very vintage to me, but perhaps that's just because I'm getting a little vintage myself.
William F. Wu's fourth novel, Hong on the Range, was published 23 years ago. It was originally published in hardcover and has never had a paperback release.
And that's too bad, since it's the kind of off-the-wall science fantasy that I think would really appeal to a modern audience. Set in a post-apocalyptic American West where cities have decayed and the surviving towns cling to the railway, where most people have cyborg enhancements, meat is harvested from cows without harming them, and a young man named Louie — a "control-natural" forbidden by law from enhancing himself, and who is shunned and misunderstood by others — heads West to find his fortune.
The Old West Was Never This Wild! In a New West filled with cyber-enhanced cowboys and mechanized singing steers, Louie Hong must make his way through hostile territory filled with cattle rustlers and bank robbers, and a passel of cyborg bounty hunters who think he's both! A story about coming of age in a strange and dangerous land where a young man's most faithful friend may just turn out to be a computerized steer named Chuck.
While it's the only novel in the sequence, Hong on the Range is part of a series of stories written by Wu that began in 1985 with "Wild Garlic." Most of them were published in Pulphouse magazine; the last one, "In the Temple of Forgotten Spirits," in 1993.
Hong on the Range was published by Walker & Co in 1989. It is 286 pages in hardcover. It has never had a paperback release, but it was re-released in a digital edition for $2.99 last October.