Why I Stopped Reading Granta
Why I Stopped Reading Granta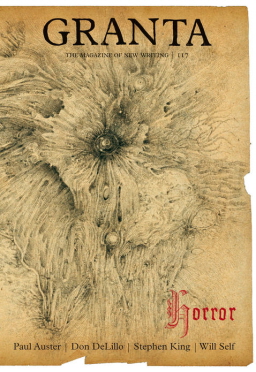 I used to subscribe to Granta when I was in grad school. It's a literary magazine published in the UK, originally produced by students at Cambridge University (where it offered early work by Ted Hughes, A. A. Milne, Sylvia Plath, and many others). It was relaunched as a wider journal of "New Writing" in 1979; since then it's published work by Mario Vargas Llosa, Richard Ford, Saul Bellow, Salman Rushdie, Ian McEwan, Gabriel García Márquez, and lots more.
But while Granta showcased some terrific writing — when it wasn't focused on an odd mix of memoir and photojournalism — too often the fiction left me cold. On their website the editorial team writes convincingly of their "belief in the power and urgency of the story, both in fiction and non-fiction, and the story's supreme ability to describe, illuminate and make real." But what I frequently read in Granta weren't so much stories as brief literary fireworks: dazzling to watch, but ultimately empty. For someone looking for love in the crowded literary scene, Granta seemed a bit too smitten with beauty and a bit too scornful of personality.
So I let my subscription lapse. But I did pick up the odd issue now and then. Not because of all that beauty or anything. Just, you know, for the articles.
Granta's changed management a few times since we hung out together in grad school. The owner of The New York Review of Books took a controlling stake in 1994; in 2005 it changed hands again. I've lost track of how many editors it's had over the same period. But it still does themed issues, and not very predictable themes, either. Granta #69 was The Assassin issue, and #74, Summer 2001, was Confessions of a Middle-Aged Ecstasy Eater ("Perhaps no truth is more momentous, as none more difficult to face, than the blackest, most abject one about oneself. My son supplies me with drugs, with Ecstasy.")
In tune with that unpredictability, the theme of last year's Autumn issue was Horror. This was intriguing enough for me to buy a copy, just to see what happened when Granta wandered into my neighborhood. The issue has an impressive table of contents, featuring original fiction by Don DeLillo, Sarah Hall, Rajesh Parameswaran, and Stephen King, and others. Of course there's also the usual mix of non-fiction, from Will Self, Paul Auster, and Santiago Roncagliolo, among others.
And as a perfect metaphor for this awkward meeting of literature and genre, Mark Doty's memoir-slash-essay "Insatiable" opens with the odd assertion, from a 2003 Walt Whitman bio, that "Bram Stoker based the character of Dracula on Walt Whitman."
In support of this, Doty trots out fan letters (that verge very much on love letters) from the 24-year-old Stoker to the openly gay Whitman:
'I thank you for all the love and sympathy you have given me, in common with my kind,' Stoker wrote, and one can't help but read 'my kind' in a number of ways, which surely must have been what Stoker intended. The letter… was charged enough for its author that he didn't manage to get it in the post for four years, which must place it right up there in the history of delayed correspondence.
I was fascinated by Doty's assertion, and his comment that
It feels right somehow; I recognize him, the craving count, the barely bodied ancient thirst, inside the part of me that shares Whitman's love for the vital ember, the glowing health, the muscle and vigour of men.
I read the rest of the article in the hope that Doty would return to this odd literary mystery, but no. He uses it instead as a launching point for a meditation on sex addiction (and meth addiction), a litany of his nameless sexual encounters, and how Walt Whitman's Leaves of Grass "made the reader the vampire, feasting on the poems. which here expose, in their fierce confessional heat, the poet's naked life."
All very interesting, but truthfully I'd stopped paying attention until he hinted that a 150-year old poetry book could turn readers into vampires. At least that part was cool.
And that pretty much sums up my feelings about this issue of Granta. Probably not going to finish it. I'm sure the writers within — especially Stephen King — know what horror is all about, and will make earnest attempts to engage with the genre on the first page. But I just don't have much confidence that they're going to deliver — or even trouble to stay focused on the story at all.
Instead, like Doty, I suspect they'll use the novel trappings of horror to launch into a meditation on the things that truly interest them. Which probably don't include telling a great horror story.
This may well be an unfair assessment. In all likelihood, I'll find Stephen King's story, "The Dune," in a collection some day and heartily enjoy it. It's possible the same is true of several of the others. But in the pages of Granta, I have to admit they just doesn't much appeal to me.
Granta 117: Horror (Autumn 2011) was published by Granta Publications. It is 256 pages, and priced at $16.99. I paid $1.70 for a remaindered copy at Amazon.com.