Vintage Treasures: Tales of Time and Space
Vintage Treasures: Tales of Time and Space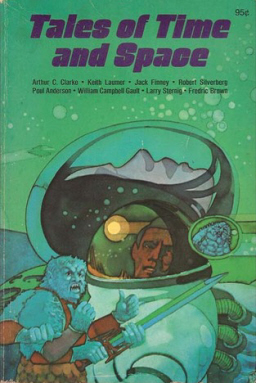 I saw this little beauty sitting on the Starfarer's Despatch booth less than 60 seconds after entering the Worldcon Dealer's Room. The Dealer's Room wasn't even open yet, but Rich and Arin were kind enough to take my five bucks anyway. Bless 'em.
I love old science fiction anthologies. I just have to have 'em. I can tell this one is old because the Copyright Date is in Roman numerals. MCMLXIX. Let's see… that's 19… uh.. what's LX again?… wait… 1969! Whew. Man, that took forever. No wonder the damn Roman Empire collapsed.
Tales of Time and Space is edited by Ross R. Olney. Never heard of him. Never heard of the publisher either: Golden Press. This has kid's book stamped all over it. 1969, huh? (Excuse me, MCMLXIX. Probably everyone spoke in Roman numerals back then. Bet that made exchanging phone numbers a bitch. "Yeah, I love vegetarian food too. Give me a ring and I'll take you to my favorite restaurant. I'm at XIIVIIIIVIIIIVIIIIVI.")
Likely this was something done for the school library market. Except the table of contents sure looks like a real SF anthology:
"Puppet Show," Fredric Brown
"Birds of a Feather," Robert Silverberg
"Clutch of Morpheus," Larry Sternig
"The Last Command," Keith Laumer
"Fog," William Campbell Gault
"The Martian Crown Jewels," Poul Anderson
"Of Missing Persons," Jack Finney
Okay, I don't know who William Campbell Gault is, but those other guys are heavy hitters. Keith Laumer's "The Last Command" is one of my favorite Bolo tales, the one where a bunch of construction workers building a highway on a world where the last war is a distant memory awaken a dormant Bolo and it begins grinding its way to the surface, terrorizing the entire city in the process. And Poul Anderson's "The Martian Crown Jewels" is a great slice of 50s space opera, from the April 1959 issue of The Magazine of Fantasy and Science Fiction.
Tales of Time and Space was published in MCMLXIX by Golden Press. It is 212 pages in oversized trade paperback, and the original cover price was 95 cents. The stories are illustrated with occasional line drawings by Harvey Kidder, and the groovy cover is by Tom Nachreiner.