Art of the Genre: Art of Dungeon Maps
Art of the Genre: Art of Dungeon Maps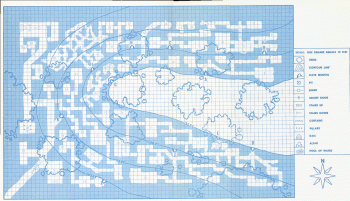 Earlier this week I had all my AD&D 1E hardcover books face out on a shelf in my home office for another project, each of the Jeff Easley covers staring at me while I worked. It was a truly inspiring set of images to have at your flank while you composed fantasy literature, but I think the best part was that later in the day my five year old son walked into the room and smiled as he stared up at them.
"Which one do you like?" I asked, knowing full well what his answer would be.
"This one," he replied, pointing to the top shelf where Easley's red dragon fighting with four pegasi on the cover of Monster Manual stood at attention.
Yep, of course my son the vegetarian and animal activist would pick that one, even if the animals involved are all imaginary.
A conversation followed with various questions like, "That man is going to save his friend, right?" for the cover of Wilderness Survival Guide, and, "I know the ninja is going to get away." for the cover of Oriental Adventures.

As he slid his fingers along the covers, pointing out other details, my copy of Dungeoneer's Survival Guide toppled to the floor. He turned to look at me, nervous, and I smiled and told him to bring the book over and I'd show him something cool inside.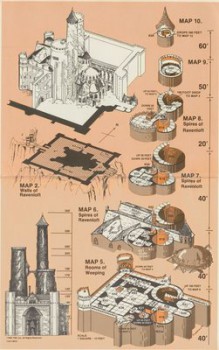 Now I'm no real fan of the Dungeoneer's Survival Guide, it being one of the least useful to me over the years of the supplement hardcovers produced in the 80s by TSR, but it still has its moments. One of these, if my memory served, was a crazy multi-level underworld map, and I decided I'd take my son through an imaginary spelunk using it.
I noticed two things immediately when I started flipping through the pages, the maps were as awesome as I remembered and that Jim Roslof had done the bulk of the interior illustrations which was awesome to see. As I moved through the book I started narrating a tale that plays out in the pages, using both the maps and pictures, we both had a blast before moving on to other things more acceptable to my wife's sense of what my son should be learning about. [Note: She was none too pleased he now knew the meaning of the word 'Drow']
Still, the more I thought of those black and white maps, the more moved I was to go back and find some of my favorites. You see, there is something innately D&D about 10 x10 squares laid out in a pattern on graph paper. I mean, it is DUNGEONS & Dragons after all.
I'll contend that along with polyhedral dice, there is little to nothing that can get a true gamer excited like the twisting labyrinth of a well made dungeon. It might be yet another reason [the first one being the accumulation of gold and magic] science fiction role-playing isn't as popular as fantasy. Flying in space doesn't give you the same concrete appeal as a DM saying, 'The stone passage opens around you with a door on your left, twenty feet down a door on your right, or the passage continues into darkness beyond that.'
During my time in the industry I've heard various stories concerning maps and their creation, most being that artists hated doing them or having them assigned to them when there was 'real' art to be done. I'm not sure this was always the case, but I can say that for particularly 'old school' gamers the designs of David 'Diesel' LaForce and Steve Sullivan are just as integral and important to the game, and probably more so, as any cover painting by Elmore or Easley.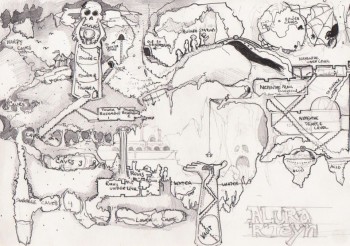 As I look at my shelves today, I'm inundated with games of all types, but it is the top row of TSR modules that really scream to me to be taken out and looked over for great mapping techniques.
I mean seriously, who can forget The Caves of Chaos from B2 Keep on the Borderlands? That is a classic blue and white dungeon that is begging to be delved. Anyone remember the Forbidden City map from I1 Dwellers of the Forbidden City? How about Kordan's Master Maze in I3 Pharaoh? Then there's G1 and the famed Steading of the Hill Giant Chief or the Sahuagin's Lair in U3 The Final Enemy? And if you like 3D maps, how about Straad's Castle in I6 Ravenloft?
Truly, the list above could go on and on, but I have only a limited number of words to use here so I'll just let the others ruminate in my nostalgic memory. The above aren't the only type of maps that I recall, either, how about some of those old school dungeon crawl games like Wizardry or Bard's Tale? I have no idea how many hours I tried to use my meager mapping skills on the dungeons of those games but I never seemed to get them just right.
Those computer dungeons might have been the oddity in the 80s, but in today's RPG landscape pretty much everything we see coming out of the industry is computer generated. Once again, digital seems to make everyone's job easier, but I contend that the passion of a map is still better seen if drawn by the human hand. To give some resonance to this claim, I'm going to show you a few examples of old school style thats still being employed today.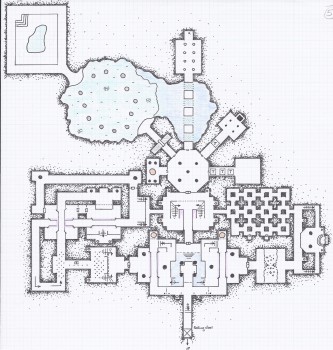 You see, there is an art to map making, one I truly don't possess, but I've seen others who take to it so naturally it's scary. Current old school Master Mapper Alyssa Faden is a prime example of what a mapping mind can do and I've been captivated by her ability for some time. If you want to be wowed by some truly incredible hand rendered maps, you can check out some of her stuff here. She, like several other great modern mappers, dwells most often on a Facebook site called Old School Gamers. In these hallowed halls you can find all manner of great maps, so many in fact that you quickly realize there aren't enough hours left in life to delve them all, or even a fraction of them.
My venerable DM Mark is also a wonderful mapper, and I've had the pleasure of taking on many of his more detailed dungeons over the years. Even after all the death, victory, experience, and treasure involved in the adventures around them, I often think my favorite part is having him hand the dungeon over to me afterward so I can actually see what I've accomplished in glorious hexes of black and white.
This then is a defining moment for the art of gaming maps, that not only can you be captured by their architectural nature, but when you've played through them, they forever become a part of you. In a way, it's like becoming a part of a picture, much more so than a cover painting of a book you've read.
The true 'art' of any Art is when it captures its target audience, and dungeon maps do exactly that even without oil, acrylic, watercolor, or the like. They simply sweep the audience away on grand adventures that allow the participant's mind to paint them in vivid Technicolor. So today I'm spending a moment with maps, and I hope all of you will as well, because somewhere in those subterranean halls there is a chance for your own grand tale of heroics to begin.